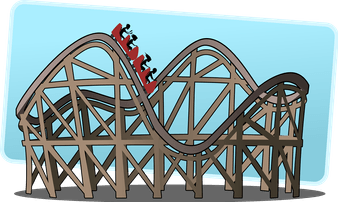 Most businesses have peaks and dips of activity, and many of them are seasonal. Your yearly income graph might look a bit like a rollercoaster with lots of ups and downs throughout the year. I'm not just talking about ice cream shops or sledge suppliers. Most shops have their peak at Christmas, travel companies in the summer, estate agents in the spring and autumn, and accountants have a mad flurry of activity at the tax year-end. Outside of these peaks, when business is a bit quieter, it is an ideal time to market your business.
The reasons for this:
You'll have more time on your hands to prepare a good campaign
You'll have less competition as many businesses think it's not worthwhile marketing during off-peak times (they are wrong!)
You can pique potential customers' interest ahead of time so that when peak season comes you'll be the first on their mind
An interesting figure is that the consumer spends an average of 79 days gathering information before making a major purchase, so if your business is one that sells larger items or services then it's good to note that your customer might be starting their research about 2 1/2 months before your peak season.
Use your quieter periods wisely and during your peak seasons you'll be one step ahead of the competition.
Marketing in off-peak times can put you one step ahead of the competition. #marketing
Click To Tweet
Get your database in order
Every business should have some sort of database of customers and potential customers – it is one of your most powerful assets. It could be a simple spreadsheet or a fully fledged CRM system. Your quiet periods are an ideal time to make sure your database is up to date. If you have contact details in lots of different places then this is the ideal time to consolidate them – and perhaps create a policy for saving customer details so that they are all saved to the same place in the future.
Also, it's a great time to make sure you're encouraging people to leave there details with you. Make sure your website has plenty of calls-to-action (CTAs) for people to stay in touch with you, like an option to subscribe to an email list, so that even in your quiet times you can carry on collecting details.
If you're a business-to-business (B2B) company, then quiet periods are also a fantastic time to search and compile lists of potential contacts, then start following them on Twitter/Facebook/LinkedIn and add them to phone and email lists.
Get Testimonials
Happy customers are your best marketing tool. Your quiet periods are an ideal time to ask those customers for a testimonial, or perhaps even a full-blown case study. These should be added to your website and then used in your social media marketing. Not only will this give you some content to share with the world, it will also remind your happy customers how good you are and encourage them to use you again.
The next step up from this is to create a whole off-season campaign where you get customers to share their stories and photos and make it a feature on your website, email, social media etc and encourage others to share the stories. It could also include running a competition for the best story. So for example if you were a company that sells beachwear then your winter campaign could be asking people to tell you their favourite holiday stories and upload holiday snaps, or perhaps tell you about their best summer outfit.
Keep in touch
Just because customers aren't using your services as much during a quiet season doesn't mean they've fallen off the face of the planet, they are still there on email, social media and at the end of the phone. So make sure your activity doesn't stop.
Continue to update your social media channels regularly, send email newsletters and targeted emails, call customers and potential customers.
Some things you could keep in touch with:
Testimonials and case studies
Updated website content and blog posts
Share interesting information (events, news, industry details)
Create hype around the upcoming peak season
Offers and discounts to entice people to buy during the quiet times
Competitions
Often this off-season marketing activity can help increase the length of your peak-season as it can encourage customers to start thinking about the upcoming season earlier than they normally would do.
Off-season marketing content
Off-season marketing campaigns can often differ from your usual content, but it's great fun to come up with ideas of how you can entice customers at times when they wouldn't normally think of you.
Some ideas of what makes a good off-season campaign:
If you own a bikini shop then your winter campaign could be based around how to get your body ready for the summer season
If you sell ice cream then perhaps some recipes and ideas for winter desserts to go with your ice cream
I've seen sun cream adverts in the cold weather that are aimed at customers going abroad for some winter sun
If you're an estate agent then a good piece for off-season is how to get your home ready to sell
A plumber/heating engineer could do something around getting your home ready for winter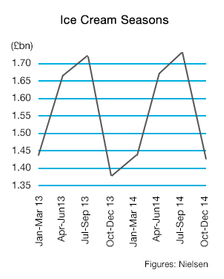 There is an excellent article in Business Insider on Ben & Jerry's ice cream manufacturers that shows how the team ramp up their marketing campaigns in the winter months (typically a quiet time for ice cream manufacturers):
Ben & Jerry's Senior Brand Manager John Henry Siedlecki told Businessweek that most new flavors are launched between January and April. The company generally releases most of the new flavors in February, but it's getting an early start this year.

Ice-cream sales generally plummet in the winter, so this raises an obvious question: Why would brands rush to release new flavors this time of year?

Euromonitor International analyst Matthew Hudak told Businessweek that introducing new flavors entices consumers to purchase ice cream when they would otherwise opt for warmer treats.

"It does sound counter-intuitive because you assume, come winter, no one really wants ice cream. […] But it's a time for flavor competition simply because it's one of the few things that can drive sales at the time," he said.
You'll find that many of your competitors will decrease a lot of their marketing activity during quiet periods, this allows you a great space to market yourself and stand out from the crowd. A good off-peak marketing campaign will put you in the minds of your customers, ready for when they need you.
How will you make your business stand out in the off-peak seasons?