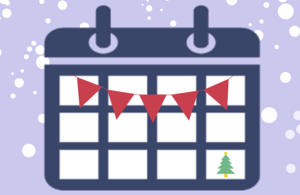 I'm trying to be clever of course, but what we're talking about here is seasonality.
When you work in a small business, time is the material you have least of (you probably have a stack of carpet samples as tall as the water cooler but you can't make blog posts out of those, comfy and stain-proof as they'd be).
So, hearing smart-Alec comments like "Oh, you don't content plan?" probably makes your blood boil. Content planning is a lovely idea: a colour-coded calendar with blog titles, useful links and keywords all ready to go. But life isn't like that. Most people (me) can barely keep a calendar of their dental appointments, let alone blog content.
But if there's just one thing that's important to consider before you chuck 'content planning' out of the window alongside 'team bonding', it's seasonality.
What is seasonality?
As I said above, it's Christmas. Or Easter, or Remembrance Day. Any time of year that has a particular feeling to it, that puts your target audience in a particular mood.
This method means the only content calendar you need is, well, a calendar.
Seasonality to keep in mind when you're writing:
January: New Year blues, feeling fat, resolutions, Burns Night
February: Valentine's Day, St David's Day
March: Spring is coming, Pancake Day, St Patrick's Day, Mother's Day
April: Easter, lambs frolicking
May: Bank holiday, summer is coming
June: Exams, Ramadan
July: Summer, holidays
August: Temperature, Bank holiday
September: Back to school, getting organised
October: University, Halloween, half term, clocks change
November: Bonfire Night, Remembrance Day
December: World Aids Day, Hanukkah, Christmas
Thinking about seasonality not only acts as a trigger for what you can write about; it also makes you human. Beginning a blog post with "My youngest son has his first day at school today, so I thought I'd write about my first day at this company…" starts a story about how your company has evolved. And people love stories.
Seasonality shouldn't be about 'It's Christmas, buy stuff' (especially if you sell bidets or coffins) – it should be your chance to put out content that shows the heart of your business, and your human connection to your audience.
Just remember: not everything is always about you. Shocker.
Seasonality keeps your content relevant and human, but it's also a calendar for sensitivity. Remembrance Day? Probably not a good idea to go for an upbeat or product-focused blog.
Your calendar is a great source of blog inspiration. What's coming up for your customers or colleagues? Click To Tweet