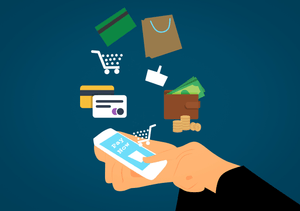 A 'digital wallet' (sometimes called e-wallet) stores a person's contact details, payment card/bank account information, and sometimes a balance of money. The information can be used to pay for goods or services and is accessed via set of login details (usually a pin code or username/password). You've most likely heard of PayPal, which is one of the most well-known digital wallets.
Digital Wallets are incredibly popular as they allow customers to pay for items without having their payment details to hand. I believe they should be an essential part of every retailer's checkout process.
Make the Checkout Process Easier
So how do digital wallets help you increase sales? The starting point is to look at how people currently shop online.
A recent survey from OnBuy found that a lot of consumers shop whilst doing something else like: watching TV, travelling, or even going to the toilet! The most popular places for people to shop online from are:
While Watching TV (54%)
Bed (43%)
Work (20%)
Other (19%)
Kitchen (17%)
Train/Bus (12%)
Toilet (8%)
On Holiday(6%)
Garden (5%)
While Driving (3%)
With all this multitasking going on, consumers just want to buy something with as much ease as possible. If you force them to go and fetch a credit/debit card then the checkout process has been broken while the customer steps away from their screen and there is a good possibility they may never return to the transaction. 69% of all ecommerce visitors abandon their shopping cart for one reason or another, costing retailers around £3 trillion a year. You need to make sure a customer isn't abandoning your cart due to lack of payment options.
To give you a real-world example, I (like 43% of people in the survey above) often shop just after I've gone to bed as it's the only time I get a moment to sit down in peace. Unfortunately, I'll regularly abandon a checkout process if there is no digital wallet payment option as I don't have my payment cards upstairs with me, and I daren't go downstairs again as my very creaky floorboards will normally wake my two year old. This type of reason is why many consumers turn to sites like Amazon as they know their details are already stored on the site so no need to have a payment card handy.
To understand how people shop and progress (or not) through your checkout you also have to understand your customers' lives and what's happening at the same time as when they shop with you. Digital wallets fit in with many consumers shopping habits.
So you can see the advantages of offering a digital wallet payment option, lets now have a look through a few of the companies that offer them. Some of the biggest providers are PayPal, Amazon Pay, Apple Pay & Google Pay so I'll cover those.
Offer lots of payment options, including popular digital wallets, to reduce cart abandonment
Click To Tweet
PayPal

PayPal is the best known and most used digital wallet provider with over 244 million active users worldwide. UK consumers are the second biggest PayPal market after the USA, and the digital wallet is taking over as one of our most preferred options of payment – so for UK retail businesses it's a great market to tap in to.
PayPal is also massively important if you are selling to millennials (approx 20-40 year old) as 87% of them use PayPal. This age range is also one of the biggest online shoppers, so in general they are most likely going to be the ones buying from your online store.
As PayPal has been around for a while, you'll find that most of the big ecommerce systems have an easy way of adding your PayPal account, you can usually just add your PayPal email address and the shop will do the rest of the work for you in connecting to PayPal and taking payments. If fact, the Shopify ecommerce system goes a step further and creates you a PayPal account when you sign up.
PayPal is cross browser compatible and available on most operating systems (including mobile apps) so it's well supported and easily accessible by most customers. Another advantage of using PayPal is that it is a well known name, so even if a customer doesn't recognise your brand they will be reassured that they are safe paying through PayPal.
You can also use PayPal as a sole payment provider because when the customer goes through to the PayPal site if they don't have an account they can just pay with their card as a guest user.
Amazon Pay

Amazon Pay is a service that lets you use the payment methods already associated with your Amazon account to make payments for goods and services on third-party websites, in apps, and also when using Alexa. Amazon has more than 310 million active users worldwide and using Amazon Pay is a great way to tap into that huge Amazon user base. Like Paypal, the trusted Amazon name also gives potential customers peace of mind.
During the checkout process, your customers will have the option to 'Pay with Amazon'. The customer never leaves your website when they use Amazon Pay which simplifies the checkout process and is definitely an advantage over PayPal.
Amazon Pay is growing at a swift rate, but as it's newer to the market you may not find it supported as standard in every ecommerce system, although I'm sure most have a plugin/app that will help add the functionality to your website.
Costs per transaction are pretty much identical to PayPal, but unlike PayPal you won't be able to use this as a sole payment provider as if the customer doesn't have an Amazon account they won't be able to pay.
Apple Pay & Google Pay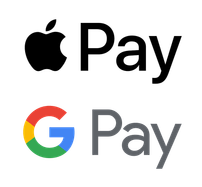 Both of these systems grew in popularity when mobile phones started to be able to offer contactless payments via the NFC (Near Field Communication) chip inside the phones – which is how the phone communicates with the contactless payment device. Apple Pay and Google Pay (formally Android Pay) have apps you can download and add your card details too – you can then use your phone to pay as you would a contactless credit or debit card. You can now see them on websites too, as and alternative way to pay for your purchases.
Now, Apple Pay (like most things Apple) only works on Apple devices. It's great if your business has an iPhone/iPad ecommerce app as you know the customer will be on an Apple phone so it's logical to assume they might use Apple Pay. If you just have a website that can be accessed from any device then you have no way of knowing what system your customer is purchasing from.
A good way to decide if Apple Pay is for you is to look at your customer demographic and your analytics to see what type of devices they are using to access your store. If your customers are mainly using Apple products you might be safe to use Apple Pay, but I'd suggest maybe offering alternative digital wallets too. Even Apple's own online shop uses PayPal as an alternative payment method if you want to buy something via a desktop or Android device.
Google Pay is an interesting one, if I'd have written this article last year I'd have had to say it was similar to Apple Pay, where it was restricted to Android devices. Earlier this year though, Google did a major overhaul and now Google Pay works on lots of different systems, including Apple devices and desktop browsers. So if you have a Google account and have loaded up your card details onto Google Pay, you'll be able to use your details on pretty much every device you use to shop online. This is a big step forward and puts the Google Pay system much more inline with PayPal as being fairly universal you use. It still has some restrictions and quirks as it's all fairly new, but I'm sure it will continue to improve over time.
As with Amazon, you won't be able to use Google or Apple as a sole source of payment, as if the customer doesn't have an account they won't be able to pay.
Giving Your Customers Choice
All of the digital wallet systems I've mentioned will be a great addition to your online store. If you only want to deal with one payment provider then PayPal will probably be your best option as they have a large user base, good digital wallet facilities, and also let your customers pay even if they don't have an account.

I recommend offering as many payment options as you can, the last thing you want is for a customer to get all the way to checkout and stop because they couldn't pay for their order easily. Most of the digital wallets are free to set up as a retailer, so the only cost on you will be time – for set up and making sure you co-ordinate all your payment accounts.
I was impressed when I went on Arteza, an art supplies website, and saw in the footer of their site that they offer most of the digital wallets I've mentioned in my article. By doing this they are really making it much easier for customers to complete the transaction, ensuring they make more sales.
Have a look at the different types of digital wallets and see what works for your customers. Hopefully with more payment options, your cart abandonment will be lower and so you'll get more sales.