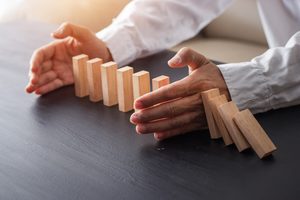 All businesses – no matter the size, offering or preparedness – are at risk of being affected by an unfortunate, and sometimes costly, event. The risks are different for every business and could include things like injury, theft or property damage. But this is where business insurance comes in.
Business insurance covers you against the risks that are most likely to affect your business, so you and your employees can do what you do best without having to worry. This means it's important to get the right business insurance for the kind of company you are or the type of work you do.
This article will run through some of the key types of insurance you can get to protect your business and the sorts of things they cover.
Is business insurance required by law?
The only type of business insurance that's required in the UK is employers' liability insurance, but this is only applicable to businesses that have full-time, part-time, temporary or unpaid employees.
Depending on the type of industry your business operates in, some regulatory bodies may also require you to have some cover. For instance, healthcare professionals are required to have a certain level of professional indemnity.
While not required by law, many businesses opt into purchasing business insurance because the cost of fixing any damage caused by unfortunate events is far bigger than the low cost of monthly business insurance.
What are the types of business insurance?
Looking at all the different kinds of business insurance on the market can be overwhelming, but here some of the most common types that most companies should have.
Public Liability Insurance
Public liability insurance covers your business against costs such as legal compensation if a member of the public is injured or their property is damaged because of your business's negligence. It's one of the most popular types of business insurance because it applies to almost all companies.
For example, let's say you fit a piece of equipment at a client's house such as a bath and it causes a leak because of a faulty pipe fitting, damaging the floor and ceiling, public liability insurance may cover the costs of legal expenses and compensation owed to the client if they make a claim against you.
Employers' Liability Insurance
Employers' liability insurance only applies to businesses that employ people, which includes full-time and part-time employees, temporary workers, subcontractors or interns. This covers your business for legal and compensation costs associated with accidental injury to your employees or damage to their property because of your business's negligence.
For example, if your business is working on a building project and a subcontractor falls and injures themselves because of some poorly constructed scaffolding, employers' liability insurance may cover legal fees and compensation costs awarded to the employee.
If you employ people and you don't have employer's liability insurance, you may receive a fine of up to £2500.
Professional Indemnity Insurance
Professional indemnity insurance, or PI insurance as it's also known, provides legal and compensation cover for businesses that offer professional services, including advice and consultancy. It's mostly applicable to companies that work contractually and includes claims like accidental copyright infringement or data deletion.
For example, if you were a software developer and the app you created is found to be flawed, causing interruption to the client's business, professional indemnity insurance may cover legal and compensation costs in relation to this.
Directors and Officers' Insurance
If your directors or management team have legal or regulatory responsibilities to employees, the public, regulators, investors or other directors, then Directors and Officers' insurance (also known as D&O) should be a priority for your business. It's particularly important for companies who have raised or who are seeking investment from external shareholders.
It offers three kinds of protection:
Covers directors and officers for fines, penalties and legal expenses.
Reimbursement to the company if it is required to pay fines, penalties or legal expenses on behalf of the director(s).
The company itself, if it's named in the lawsuit.
For example, if a shareholder were to lodge a credible dispute regarding the operation or finances of the business, D&O insurance may cover the legal and regulatory fees relating to such claims.
Cyber Insurance
Cyber insurance offers protection for risks that may happen because of a computer security breach or a failure to your computer systems, whether accidental or intentional. Any businesses working with personally identifiable information (PII), including payment card information (PCI) or medical records (PHI) should consider cyber coverage. Cyber insurance is sometimes bought with a professional indemnity policy to comprehensively cover a business and the services they provide.
So if, for example, you process information as part of your business and later discover evidence that you have been hacked, cyber insurance can cover cybersecurity experts, data breach response services and regulatory fines resulting from the event.
If you're unsure of which business insurance you need for your company, there's loads of information out there to read up on and plenty of insurers who will work with you to get the right cover.
Yell's partner Superscript offers all Yell customers one month's free business insurance – get details of this offer here.