Good question. What is it?
MCC stands for 'My Client Center'. Think of it as a big tree with all the little lovely AdWord accounts sitting on it's branches. Basically it's the master account which allows you to have multiple AdWord accounts within it.
Google advertise it as a umbrella account which may be a clearer explanation.
Why should you use one?
If you have multiple AdWord accounts you should, could, set one of these up. Logging in and out of accounts is time consuming and can lead to errors. It can also slow you down in your reporting style and just getting things done.
Say if you have different accounts for different countries or different languages. Or even for sub domains or other businesses. Get a MCC.
You can have loads of accounts in there and when you log in, the initial page shows you the overall account stats page, dependent on the date range you have chosen. Agencies use MCC's as it allows us to have loads of accounts under one login and for multiple users to gain access.
To set one up, it is relatively easy.
First log out of AdWords. Ideally have gMail open in another browser. You may need to set up a new email address to set the initial MCC up. You also need to be patient as some changes can take up to 24 hours.
Then head here and follow the instructions. Add the company name you wish to use. Ensure it is different to any of your other accounts, even by just adding MCC – Yell for example. Tick if you are managing your accounts or someone elses.
When it's gone through, log in.
To invite your previous AdWords accounts, you need to find on the main page, the little ' Link Existing Accounts' button. Click on this and then enter the ID number of the account you wish to add to the main MCC.
For example, say you originally have 3 AdWords accounts, for England, France and Germany. You want them in your new company MCC. Log into those accounts on another browser and look in the top right for the 'Client ID' number. Will be in the format of (Client ID: XXX-XXX-XXXX). Then to the MCC browser.
Click on the following


and then add the Client ID number from the AdWords account into the next box.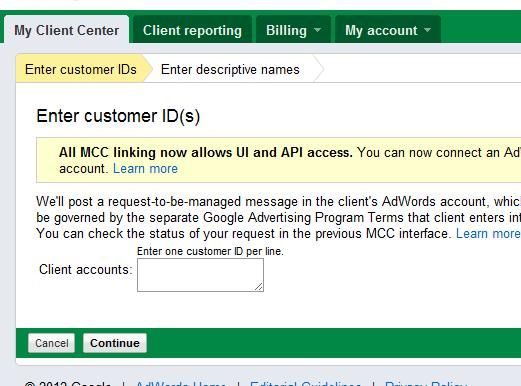 Then Invite.
Then go back to your browser with the indivudal Adword account logged in, you should have a pending invite from the MCC. If you can't see it, head to 'My account' in the top green bar, then 'My account access' in the drop down.
Accept. It should then be in your MCC! You can even have MCC's in MCC's if you follow the above and then invite the Manager ID account number to your original MCC. Adword accounts coming out of your ears!