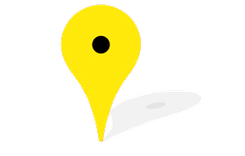 One of the most common questions I get asked as an SEO expert by my clients is 'Where is my Google Places listing ?' and 'How can you optimise it to appear on the front page?'.
Firstly, I would like to clarify that there is no such thing as a guaranteed listing on Google whether it be paid or organic. As an increasing amount of searches online now have a local intent this is an area if understood can present great opportunity to achieve first page ranking with minimal cost.
I will attempt to shed light on some key areas for optimising Google Places listings below but bear in mind the algorithm is extremely complex and evolving all the time.
Google Places Optimisation
1. Claim your listing
This is a very simple process which can be done by yourself or a company like Yell who offer this as part of their Yellsite Plus web design service. There is a simple verification process which must be followed, this could be in the form of postal or a telephone call. It's also a good idea at this point to ensure you have only one listing per business, multiple listings for a single address can negatively affect your score and should be deleted.
2. Complete your listing in full
There are several fields which must be complete to achieve a 100% score on your profile which will include :
Email address and Website
Phone number – It's good practice to use one unique number across all your media, keep it consistent
Description Info – Be thorough and ensure you do not 'stuff' with too many keywords.
Photos/Videos – Upload correctly tagged images which will help attract users i.e image of the premises or a map
Categories – It's best to select the predefined categories before adding custom ones
Areas Covered – Be realistic with this i.e a dentist in Reading should cover a maximum 10-15 mile radius.
Offers – Places allows you to add special offers/coupons, make use of this by placing regular up to date offers.
3. Keyword insertion
Be careful not to stuff full of keywords as this may lead to your listing being removed from the mix completely. Respect the system and it will pay off.
4. Encourage Reviews
If you can encourage reviews to your listing this will help further with keeping your listing fresh and a better user experience.
For more information about the official guidelines you can visit the following link : Google Places guidelines
It's not that difficult right? I have seen that there are now a lot of so called SEO's charging to setup a Places listing and then a monthly fee to maintain. You simply don't need it!
If you have any further questions or want to share some of your own examples then please post below.