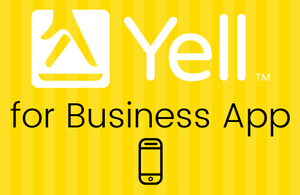 It's essential that all small businesses communicate effectively with new leads, raise their profile online, and generally stand out against their competition.
And here at Yell, we offer a suite of free digital marketing essentials – including free business listings, a free online visibility scan, and even a free DIY website builder.
With this in mind, we're incredibly keen to announce the latest version of our Yell for Business App. It's been around for a while, but the latest iteration is bigger and better than ever – so let's explore!
What is the Yell for Business App?
The Yell for Business App is a free mobile app, available on iOS and Android devices, that allows you to manage both free and paid Yell.com services on the go.
How Can it Help Me?
If you regularly find yourself updating your Yell listing, responding to reviews, or managing your paid-for Yell products, our app provides a convenient way to carry out all of these tasks on the go. Businesspeople who regularly spend time out of the office armed only with a smartphone and a mobile internet connection – this is the app for you.
It's completely free, can be used with Yell.com's free listings, and can help you maintain and enhance your online presence at your own convenience.
Our Newest App Feature – Direct Messaging
We're incredibly excited about the recent addition of in-app direct messaging. Prospects and customers can send you messages through your free listing page which you can respond to directly through the app.
Nowadays, both B2B and B2C prospects expect a prompt response to new enquiries, and the addition of messaging allows businesses of all kinds to offer fast, real-time support. Prospects can also share pictures and their location with you so you can give an efficient response.
You can also use the messaging feature to book client appointments and send professional PDF quotes all directly from your mobile device.
What Does the App Do?
Our Yell for Business app is great for keeping your online presence up to date while you're away from the office. Let's take a look at each of its features in a little more depth.
Claim & Update Free Yell.com Listings
Our app can be used to update existing Yell.com listings and set up new ones on the go. You can amend your company's contact details, website link, social media details, opening hours, upload photos, and provide a list of your products or services.
View and Respond to Yell.com Reviews
The app also allows you to monitor new and existing reviews, reply to reviews that have been left, and prompt customers to leave new reviews.
Manage Your Online Reputation
You may already be aware of our Reputation Manager product but if not, it's a single dashboard that allows you to amend your business listings and reviews across multiple listing sites such as Facebook, Google My Business, TripAdvisor, and many more.
Reputation Manager customers will be pleased to hear that you can seamlessly use the Yell for Business App to amend all of your listings, including opening times and contact details, and respond to reviews from across the web. Customers can also integrate their social media accounts with the Yell for Business app, allowing for social posting and real-time social listening across platforms.
Note: Reputation Manager is a paid service.
Manage Your Yell.com Advertising
If you're a Yell.com display advertising customer, you can update and amend your ads through the Yell for Business App, as well as monitoring their performance.
Manage Your Yell Website (Selected Customers Only)
If you've purchased a website through Yell, certain customers will be able to edit and update their site through the app directly.
Analytics for Other Yell.com Products
The app provides analytics covering many of Yell's paid products, including calls, clicks, and more. You can now keep a close tab on your Yell marketing efforts while on the move.
Direct Messaging
As mentioned above, you can chat in real time with prospects, receive pictures, set appointments, and send PDF quotes to customers. This feature enables you to provide a fast and efficient response to new enquiries – wherever you are and at any time of the day or night.
Want to manage your entire #Yell presence on the go, 24/7? Check out the Yell for Business app!
Click To Tweet
So, are you ready to manage your entire Yell presence on the go? To download the app or to learn more, head over to our Yell for Business app portal now!