Are you catering to the modern consumer?
The eCommerce opportunity
There is no doubt that eCommerce is an increasingly huge opportunity for businesses.
As more businesses start selling online, it can be hard to stand out in a crowded marketplace. eCommerce is not just about having a website; you also need to consider complex online customer journeys and winning those buyers over every step of the way.
A massive 87% of all UK adults shopped online within the last 12 months1.
In this guide, we'll walk you through the modern customer journey and how to bring those shoppers through the purchase funnel to conversion.
Download the guide to find out more.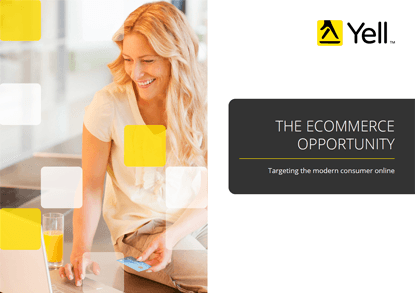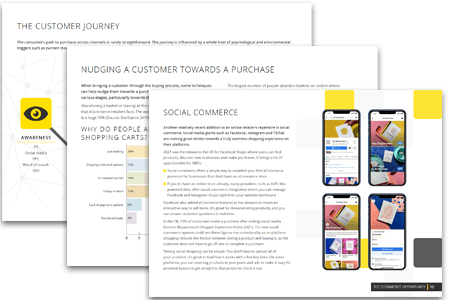 What you will learn from this report?
You'll discover how to outshine your competitors with tips on:
The modern customer journey
Building landing pages that convert
How to recover from abandoned baskets
Nudging a customer towards purchase
Did you know...

In September 2021, internet sales made up 26% of total retail sales2.
This online shopping trend is going to continue upwards over the next few years too. It's estimated that online retail sales will grow at a 6.2% annual rate by 20233.
Getting a head start on the competition
Some of our customers have revamped their eCommerce presence and are already reaping the benefits.
Densley James, Managing Director at Sigma Engineering Product Design talks us through how Yell delivered an ecommerce website and targeted online advertising to drive more website visits and calls.
"I will encourage any small business who is looking to grow to look at Yell as a partner. What they offer is affordable, given the returns that come from the investment.
The look of our business today, is much better than it was a year ago, and we look forward to working with Yell more, investing more.
There's a saying that goes, "it's just business" but for me, business is about relationships, building strong relationships and partners. Yell has been that to us. Yell is acting effectively as our marketing department. The reach that they've exhibited for us is tremendous."
How much time does managing your website take up?
Managing a website can be a mammoth task. Adding new content, updating links, reviewing load times and page speed, and managing keywords adds a lot of work to your to-do list.
Let our experts help you.
1 ONS, Feb 2020
2 ONS September 2021
3 J.P. Morgan 2020 E-commerce Payments Trends Report, 2020