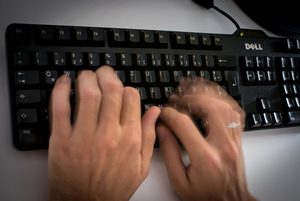 'Content is king' is a much-overused and not entirely inspiring phrase designed to instil fear into the most productive of marketers. Skip a blog post and all is lost!
Whether you write fiction or website copy, we all have off-days writing content, and sometimes need a bit of motivation. These 29 writers and business people have a few tips and pearls of wisdom to offer, so if you're lacking motivation today, see if they can inspire you.
"Quality means doing it right when no one is looking" – Henry Ford
"Without strategy, content is just stuff, and the world has enough stuff" – Arjun Basu
"Good copy can't be written with tongue in cheek, written just for a living. You've got to believe in the product" – David Ogilvy
It's not what you sell it's what you stand for" – @SproutContent
"The buyer journey is nothing more than a series of questions that must be answered" – Analyst Firm IDC
"Traditional marketing talks at people. Content marketing talks with them" – Doug Kessler
"Content is king, but distribution is queen. And she wears the pants" – Jonathan Perelman, Buzzfeed
"Content is anything that adds value to the reader's life" – Avinash Kaushik, Google
"Content marketing is a commitment, not a campaign" – Jon Buscall, Head of Jontus Media
"These days, people want to learn before they buy, be educated instead of pitched" – Brian Clark
"Great content is the best sales tool in the world" – Marcus Sheridan
"Publish everywhere" – Robert Simon, Four Seasons Hotels
"Great marketers are matchmakers. Find ways to get offerings people love in front of the people most likely to love them" – April Dunford
"When creating content, be the best answer on the internet" – Andy Crestodina, Co-Founder of Orbit Media
"Do not address your readers as though they were gathered together in a stadium. When people read your copy, they are alone. Pretend you are writing to each of them a letter on behalf of your client" – David Ogilvy
"Content is the reason search began in the first place" – Lee Odden
"Average conversion rates are meaningless. Switzerland on average is flat" – Chris Goward
"Here's everything you need to know about creating killer content in 3 simple words: Clear. Concise. Compelling" – Demian Farnworth, Copyblogger
"Either write something worth reading or do something worth writing about" – Benjamin Franklin
"Good content is not storytelling. It's telling your story well" – Ann Handley, MarketingProfs
"Learn to love the data and, for heaven's sake, write well" – Ian Lurie
"Commit to a niche; try to stop being everything to everyone" – Andrew Davis, Brandscaping
"If great content is the hero, then banners are the villain" – Michael Brenner, Head of Strategy at NewsCred
"All companies would be better off if they stopped trying to be amazing, and just focused on being useful" Jay Baer
"You don't have to reinvent the wheel; you just need to share your unique perspective on why the wheel is important" ­– Jon Ball, Page One Power
"It is perfectly okay to write garbage ­– as long as you edit brilliantly" ­– CJ Cherryh
"Less is more" ­– Andrea del Sarto
"Anyone with an internet connection and an idea can develop an audience" – Kevin Spacey
"If you're not putting out relevant content in relevant places, you don't exist" – Gary Vaynerchuk, CEO Vaynermedia
As an ROI obsessive, my own little mantra is "No content measurement = no results". What's yours? Tell us in the comments.
29 #content quotes to motivate you
Click To Tweet
Read more:
Nine Tips for Easy Regular Content Production