Once you've set up your business page you might think that you can just post anything and everyone who's liked your page will be able to see and interact with your post. Nope, not true.
Liking a page takes seconds and doesn't involve any thought. Liking a post on the other hand isn't taken lightly and you really have to work to achieve interaction from your fans.
Now you might think that you have nothing to post except the link to your website which (hopefully) has your company blog and more information about your products and services. That's all very well and good, but your Facebook business page is not really for selling. It's about building awareness of your brand, its personality and even its staff.
How do you do this? By interacting with your fans, appealing to their emotions and encouraging them to approve your content through likes, comments and shares.
Here are my top 5 tips for Facebook content that really works:
Photos
They claim that a picture says 1000 words… yes I know it's a cliché but it's actually and could even be worth 1000 likes! Images on Facebook are big, they're in your face and when you're scrolling through a newsfeed full of all sorts of things, it's the photos that you notice first.
Pick photos that are different – either sneak peeks or behind the scenes images of your company and its products, clever or funny images. You want something that will provoke a positive reaction, even if that action is just to click the like button.
If you want people to comment on a photo then add some text when you post it. Ask your customers to guess where the photo was taken, or post two pictures and get them to vote for one or the other.
Quotes
"The only place where success comes before work is in the dictionary." ~ Vince Lombardi
Everyone loves to quote, be it from their favourite TV show or the person who inspires them, so pick some suitable quotes and share them with your Facebook audience. Whether you choose inspirational, funny or entrepreneurial quotes make sure it's relevant to your audience.
We've all seen coffee-related quotes on a Monday morning when people are tired and would rather not be back at work… and of course the Friday afternoon ones where everyone's looking forward to the weekend! Timing is everything so try to pick a quote that fits with your audience's emotions at that time of day. If you can find a funny, motivational quote that ties into your business then so much the better!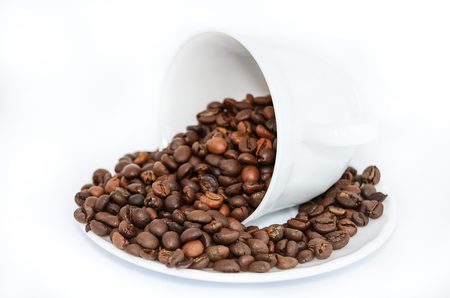 Questions
A question provokes a response. It's human nature for us to answer a question, especially if it's something that interests us or we feel strongly about. When it comes to your Facebook page you can use questions for all sorts of things, giving you insight into your products and services, but also your customers themselves.
Ask your customers what they think of your latest product, the silliest thing they use your product for or even what they're up to at the weekend. You can be as friendly or as serious as you like – just make sure that your audience will appreciate your question. To increase engagement with these posts, make sure your question is accompanied by an image.
Tips
Remember that your Facebook fans are your customers and potential customers so you want your business page to be helpful. Try posting a tip of the day and then combine these tips into a blog post for your website, posting the link to said blog post on your business page.
Invite fans to submit questions and problems for you to answer each day. You can encourage people to participate by offering a 10% discount to everyone whose question is answered on your page.
Links
If you've just written a new blog post on your website or seen an article you think that your fans will appreciate then post the link onto your business page. Facebook has made sure that these links take the information from the site you're linking to so that the post is visual, but before you post it you can customise the text and image to ensure it's right for a social media audience.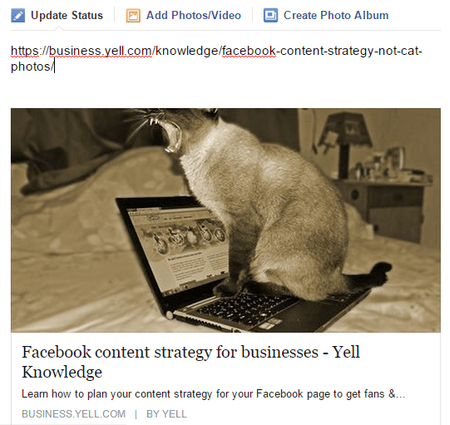 Of course you can also post company updates and showcase your products – the trick is to mix up the posts on your Facebook page so you're not just posting pictures. You don't want people to get bored with your posting style, so experiment with different posts on different days and use your insights to keep track of the most popular posts.
Read more: