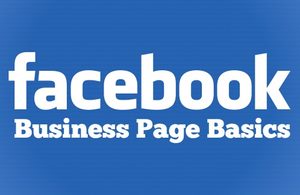 For many local businesses, used correctly, Facebook can be a goldmine for finding leads or reaching new customers. Here are a few basic tips for those of you who have just started your Facebook business page journey and perhaps need a little guidance to take your page to the next level.
1) Have You Set Your Business Type Correctly?
If you are a local business, make sure you use this category for your page (you can change this if you have already set up your page by going to the About Section / Page Info). The Local business category plus one of the further options under this category will give you the widest range of information sections to provide your prospect or customer with plenty of information about your business. The sections include:
Short description
Website URL
Email address
Phone number
Physical Address
Map
Check-ins
Reviews & Ratings (these can be switched off)
This category (and the Company / Organisations category) also gives you the ability to 'verify' your page, which apparently helps boost your search visibility within Facebook, particularly in your local area. To verify, go to settings, general & 'verify your page' should be the 3rd option.
2) Brand Consistency
Your Facebook Business page is simply another marketing tool and it's essential to have brand consistency across all tools. Make sure you display your logo (most people use the profile image for this) and then have elements of your cover image that reflect your brand, even if you change it from time to time when you run specific promotions etc.
3) Create Your Business Username / URL
When you first create your Facebook business page you are allocated a unique number which appears in your URL. This can be changed to reflect the name of your business (subject to it being available). If you leave it as numbers, your page will be difficult to find.
For example, my consultancy business page for 'Profit Masters Limited' has the Facebook username of @ProfitMastersLimited, which I can use to 'tag' the page. It also forms part of the URL: https://www.facebook.com/ProfitMastersLimited – I can paste this into a post on Facebook and it displays a short summary of my page, or I can use it as a link from outside of Facebook.
To create or change your username / URL (also sometimes known as a vanity URL) go to the Page Info section. (BTW, the tick shown in the image below next to the business name shows that the page has been verified).

4) Enable Page Messaging
You want to make it as easy as possible for your prospect or customer to get hold of you by THEIR preferred method. As well as making sure your have filled in as much information as possible in the 'About' section, make sure people can private message you – to check it is turned on, go to your page, select: Settings, General, and the 'Messages' setting is the 7th item down.
5) Make Best Use Of The 'Call To Action' Button
There are 11 call to action options to choose from:
Book now
Call now
Contact us
Send message
Use app
Play game
Shop now
Sign up
Watch video
Send email
Learn more
I recall reading somewhere recently that 'Learn More' tends to have the best 'Click Through Rate' (CTR), but take the time to test to see which one works best for your business. If possible, use it as an opportunity to gain new subscribers so you can use a marketing funnel to communicate with them outside of Facebook.
With mobile usage continuing to soar, Facebook is apparently rolling out some special mobile features linked to the 'Call To Action' buttons over the coming months, so watch out for updates about this!
6) Make Good Use Of Video and Pictures
Videos and pictures are memorable, attract attention and are more likely to be commented on, liked or shared.
Accordingly to stats published earlier this year on Social Media Today, 2015 saw exceptional growth for video on Facebook, with video posts having 135% greater organic reach than photos.
Whilst the video market is booming (particularly Facebook Live Video, which will form the topic of a separate article), posts that include images still achieve higher engagement than text-only posts. As the saying goes, 'A picture is worth a thousand words', although in terms of business and marketing adding a good explanation to a picture can make a huge difference to the appeal.
7) Use Your Facebook Business Page 'Insights' Tab
Facebook provides some superb data in the 'insights' section to help you use optimise the effectiveness of your page. Use it to find out:
The best time to post – which days are most of your fans online and at what time of day?
The best type of content to post – which posts seem to gain greater engagement?
Your fan base demographics – does it match your expectations or do you need to tailor your content to a different audience?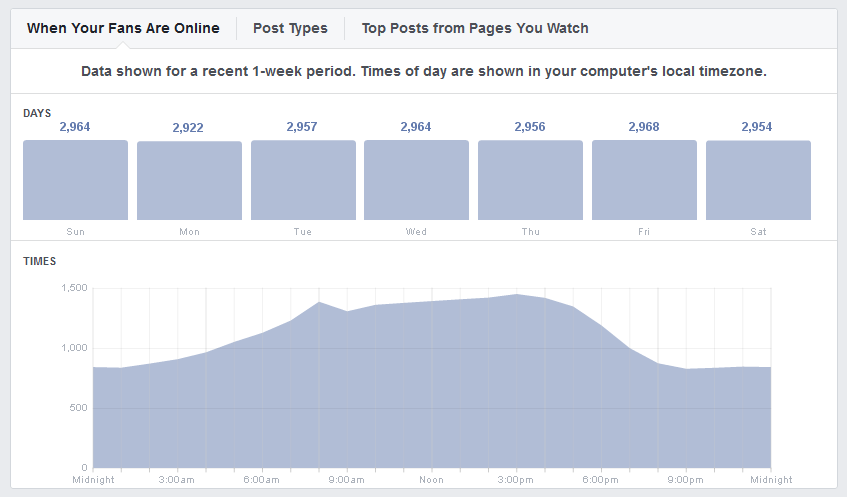 To close, remember, Facebook is a social platform and generally users are not there to buy, they are there to catch up with friends and share day to day life experiences and observations. So make sure your page has that personal, but professional touch to help you to connect with your fans.
Do you have any additional basic tips to share with our readers? Please feel free to comment below.
7 Facebook Business Page Basics For Local Business
Click To Tweet