Today I'm going to write about eight different videos you can make that will shine out to your customers. I'm going to tell you about eight different stories that you can tell and why they will grab your customer's attention.
1. Testimonials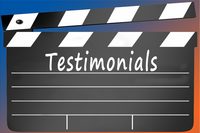 Testimonials are always a great way to showcase your business. Why? Your happy customers are your best advert. Testimonial videos allow your happy customers to talk directly to your potential customers. When someone is searching for a service or product online hearing and seeing what is said by someone who is already a customer is very persuasive. It gives the potential customer a sense of trust and confidence in the product. Testimonials are among the simplest of stories for you to tell. All you need are some enthusiastic customers.
2. Virtual Sales Presentation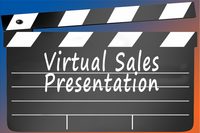 A virtual sales presentation is a direct address to potential customers. It allows you to give a consistent sales message and to transmit detailed information clearly. As a video production it can be very cost effective to produce but will require time. The most important element will be the performance of whoever is giving the presentation. Let's be clear, it is a performance and if you are making the presentation yourself, you will need to consider carefully your diction, stance and body language just as much as you consider what you will be saying.
What is the best video story for your business and budget? Consider these 8 different options
Click To Tweet
3. Virtual Tours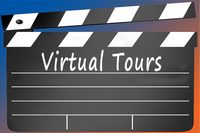 Virtual Tours are very effective when you need to display a location or an event. The ability to let the potential customer navigate through 360 degrees is great for allowing them to see the location for themselves. With more complex Virtual tours you can also allow your viewers to move from room to room or between locations as part of the tour.
More excitingly 360 degree video is now becoming commonplace. You may have seen a 360 degree video (if not click here) and been amazed at your ability to change your point of view within the action. This is where stories meet virtual tours as you can now make a traditional narrative driven commercial but gift the power of choice and interaction to your viewers.
4. Product Demonstrations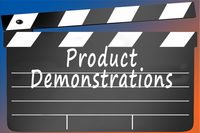 Product Demonstrations allow you to show the benefits of your product immediately. Product demonstrations work. Viewers who have seen product demonstration videos are 85% more likely to buy that product according to research by Internet Retailer. When a product is new or complex it can be vital to instruct your potential customers to help them use it correctly. A demonstration is also the best way of showing how a product can benefit the lives of potential customers. Whatever the driving purpose of your demonstration video remember to make your instruction points and visuals clear and concise.
5. Training Videos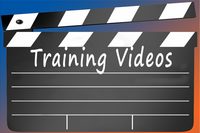 Training Videos allow you to share your expertise. You may share with the viewing public. Why would you give away your skills this way? Showing your expertise allows you to build a reputation. A reputation as an expert can make your business the go to place whenever anyone is searching for your service.
You may also use online video as a training tool for your staff. Does your business have multiple sites? Is it more cost effective to send a trainer to every site or to enable your teams to access online video content that delivers the same knowledge?
6. 1-2-3 Video
What is a 1-2-3 Video? It's a video that guides your viewers through a process to encourage them to become customers. If you email a potential customer that is step 1 and step 2 would be the few customers who click through to your website. The Implix Email Marketing Survey found that adding a marketing video to your email contacts increased click through by over 96%. So going from a two step email strategy to a three step, using video content as the persuading factor, has a huge impact on the number of customers who are prepared to look seriously at your business.
7. Animation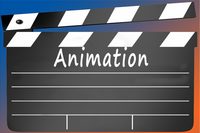 Animation may seem like a very expensive way to tell your stories. Probably because you are thinking about thousands of hand drawn frames or of Pixar's magical computer animated movies. For our purposes let's imagine using motion graphic text to make an eye catching attractor video. Let's imagine 3D modelled components fitting together to show how a product works. Let's imagine computer generated paper cut-outs used to create compelling educational or training content (click here). These types of animation can be very effective and cost competitive and make you stand out from your competitors.
8. Corporate Overview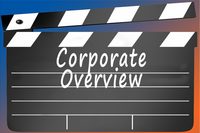 Corporate Overview videos are a way to tell the stories of your business without creating an advert for a single product, service, or range. This is the kind of video you have produced for the prestige, to mark your business as a leader in the field, to show your corporate identity. Your business may operate in a market with many competitors but if your business is an environmental leader you will want the public to know. If your business has incredible research and development, beyond what would normally be expected, than you want this to be the thing that shines out and tells your customers that your products are better because your engineers test more, experiment more and know more. These aren't adverts, commercials or traditional marketing videos. These are corporate videos that tell everyone why your business is different.
I hope those eight stories are useful to your business when deciding how to approach your video marketing, and I hope they help your business to shine just a little brighter in the minds of your customers.