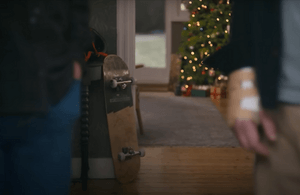 I'm not a Christmas person but I am an ad person. So, every year, I hold my nose and watch the big Christmas ads. As a bit of a closet goth, it's all too bright and shiny for me.
But while the Christmas ad is generally a gluttonous capitalism fest of decadent spend-mongering, this year there seems to be a little less sparkle. In deference to a true annus horribilis, many of the big brands have reined in the bells, baubles and budgets some.
Which suits me fine, but when tested on a Christmas-lover, proved a little disappointing.
A sombre tone
John Lewis is the big one of the season – it's the one that most often makes headlines. This year there's been a lot less fuss about it, probably because it's quite sad.
Amidst preparations for Christmas (low-key preparations, not extravagant preparations) a middle-aged man is secretly trying to learn to skateboard, to comedic effect. It transpires that he and his wife are going to be fostering a young girl who loves skateboarding. She arrives at the door looking frightened but is disarmed by the presence of a skateboard. This lovely man has been learning to skate so he has something to bond with her over.
The ad is promoting fostering, with the charities Action for Children and Who Cares Scotland? The creative team at Adam and Eve, John Lewis's agency for nearly a decade, obviously read the room even six months ago when they will have started work: it's a serious message, the entire production is very pared-down and there's absolutely no sell whatsoever. I've seen lots of jokes about how the usual committee signing off such an ad would be asking, "Do we even sell skateboards?"
Right now, the UK is not very interested in brands splashing millions on a glitzy animated extravaganza, so it's the right choice for John Lewis to go for something that's climate-appropriate. It's still huge brand awareness for them, but they're protected from an audience happy to lash out at anyone spending big bucks.
Quite aside from that, it's entirely possible that John Lewis did actually cut its Christmas ad budget this year. It usually spends between a low of £1m (2016) and a high of £7m (2015), but this was a very standard shoot with a handful of actors and locations. Our terrible year and cost-of-living crisis is a great excuse for them to spend less on a Christmas ad while getting head pats for acknowledging the cultural temperature.
Safe? Yes. Inspiring? Heart-warming? Not sure. HOWEVER, it seems to have been well received by people outside of the adworld bubble, so they've played it right. I'm just dead inside, clearly.
A tear-jerker
From McDonalds we have another ironically non-capitalist Christmas ad about wanting family over fripperies.
A young boy is making his Christmas list and it gets longer and longer and longer. It gets so long that it's swept away by the wind, to his dismay. To cheer him up, his mum and dad take him into McDonald's (ahh, there's the capitalism) and they have a lovely time.
Walking home, his mum asks him what was on his list. And he shows her the one scrap he was left holding: a drawing of his family. Alright, it's quite nice.
The outlier
The big brand that didn't get the memo was Asda, who were clearly very excited to secure the (I'm sure very expensive) rights to splice Buddy from Elf into a run-of-the-mill supermarket ad. Buddy starts work at Asda for Christmas and acts the buffoon as he fails at each job around the store.
It's not my favourite. The creative concept is 'Could we get Buddy the elf?' and that's where it ends.
But hey – people love that film and the contrast between American comedian and British supermarket worker is fairly amusing.
The standout
Amazon's ad with Taika Waititi hit the perfect balance between human empathy and the magic of Christmas. It's not over-the-top or focused on spending money, and it has a heartfelt message (ironic, considering the brand) but it still feels like Christmas.
The ad is by Lucky Generals and features a traditional-feeling storyline of a little girl carrying around a snow globe as she waits for Christmas. She's so obsessed with it that her daddy decides to make her a walk-in snow globe in their greenhouse, with a fan blowing shredded paper snow and a Christmas tree. It's very cute.
Amazon has just announced that it's laying off thousands of people, btw. A month before Christmas. In case we're distracted from their questionable treatment of employees by a nice ad.
So yes, taking the ad as a standalone, it's my top ad of the year. From THIS brand? Hmmm.