I came across an interesting social media tool which boldly claims to empower you to be awesome on social media, automagically allowing you to share pictures, video, articles throughout the day! Yes, you read that correctly 'automagically' is the term used by BufferApp on their website..!
The purpose of the tool is to connect all your social media accounts to be able to automatically post/update at set times throughout the day. The advantage is more control over your delivery through social networks to maximise on the opportunities it presents. Each network can have it's own settings which I have not come across elsewhere on the net.
Buffer connects your Facebook, LinkedIn and Twitter accounts for FREE which are then accessible through one portal and one login.
As an example, the optimum time people read and share your updates on LinkedIn could be between 9 to 11am as they are in an office. The optimal time people read, reply and share on Twitter and Facebook might be 7 to 8pm at night.
See the below screenshot, a very simple interface allowing easy access to all your accounts.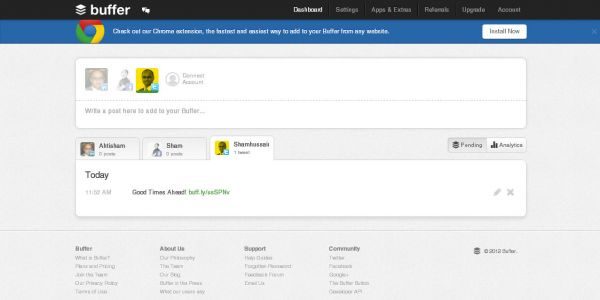 Having tried it out for myself, it is a very simple tool which works really well. Its quite a slick experience on Google Chrome and very easy to connect all your accounts and to start posting.
Combining this tool with logic from Realtime data from Google Analytics is going to yield the best results in my opinion allowing delivery of content at times when the audience is most likely to engage.
There are now apps available for mobile and desktops so getting started is extremely easy! Give it a go…