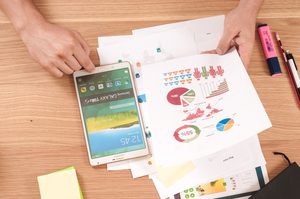 No matter how many tactics you have for generating new content ideas, sooner or later you will hit a dry spell. All your ideas seem repetitive and dull, and you know you need a fresh injection of inspiration.
It could be time to dig out old customer polls or questionnaires – you'd be surprised what nuggets of inspiration can be gained from reviewing customers' views of you. You can repurpose their comments and ratings as a basis for blog posts, testimonials, case studies and infographics.
Better still, why not write a brand new customer questionnaire – you can get double value from it by using both for research purposes and content generation, and you'll have complete control over which questions are asked. And if you don't have time for a full questionnaire then a quick social media poll can give you food for thought.
Simple, preferably quantitative questions like the below provide a great opportunity for infographic material. There are lots of free infographic tools online, all you really need to provide is a compelling and original statistic and a spot of branded graphics. E.g. '95% of our customers rated our product 'good' or 'very good' in our poll.'
Here are a few of the questions you can ask your customers that can lead to ideas for new infographics and other content.
"What do you value most in a service provider like ours – [speed, quality or responsiveness]?"
"What is your biggest [business] difficulty/challenge at the moment: [Storage space, communication, cashflow, etc]?"
"What's the main reason you use product [x]: [convenience, quality, price or value?]"
"How do you rate the overall quality of product [x] on the market at the moment out of 10?"
"Please tick all the brands you've used before for product [x]"
"What do you like most about [competing brand]'s products?"
"How did you first hear about us?"
"How would you rate our product/service out of 0-10 (Poor to Very Good)"
"Is our product good value for money? Please rate us out of 10."
"Is our product good quality? Please rate us out of 10."
"Which of the following words describes us best: responsive, slow, proactive, reactive, high quality, poor quality, etc."
"How well do our products meet your needs on a scale of 0-10?"
"What would you miss the most if you stopped using us?"
"If you had the opportunity to improve our product/service, what would you change?"
"What are we doing wrong?"
"How often do you use our product?"
Infographics are one of the fastest, simplest and most eye-catching pieces of content available to digital audiences. The above questions should provide you with plenty of data with which to start experimenting with a few infographics and other forms of content.
16 questions to ask your customers to inspire great infographics and other #content
Click To Tweet
Read more
Stuck for Content? Try This Easy Four-Step Content Idea Generator