Twitter is a mine of information, opinion and commentary on an amazing array of topics – you just need to know who to tune in to.
FAQs, case studies and guides are linked to every day, all of which answer the questions many small business owners are searching for – and maybe even highlight things they weren't aware of.
Here are eight of the best when it comes to accounts of interest for the business world.
@MarketingDonut
Frequent updates per date on all things marketing, with links to free articles and advice on the marketingdonut.co.uk website. Contains practical posts from expert contributors and news pieces, as well as more 'evergreen' content.
@BusinessZone
Crammed with polls, competitions, blogs, news and videos featuring the likes of James Caan and Peter Jones, this is the Twitter presence of businesszone.co.uk – a small business advice site that boasts 390,000 visitors per month.
@MicrosoftSB
Hints, tips and advice for small companies courtesy of Microsoft. Example tweets include 'Young tycoons who struck it big' and 'A basic outline for starting your own business from concept to launch'.
@startupsfeed
Practical advice for people in business on topics like getting your SEO right, Google AdWords equipment leasing are combined with step-by-step guides and news to create a great offering. Promotes content uploaded to the startups.co.uk site.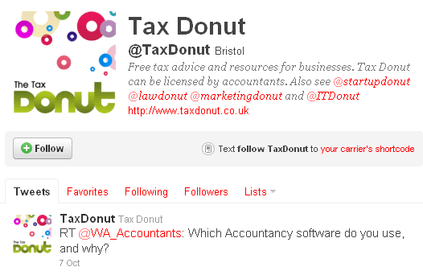 @taxdonut
A new kid on the block, @taxdonut offers free tax advice and resources for businesses. Another prolific account from the Donut stable.
@OPENForum
American Express is behind this US-based site. Although some of the content applies mainly to the States, there's lots here for businesses on this side of the pond too. Ooodles of tips.
@BusinessLinkGov
The government is behind Business Link itself, and the Twitter account offers links to free advice and guidance on loads of topics like business rates, intellectual property and import/expert issues.
@smartaHQ
Billed as an advice and support platform for entrepreneurs and small businesses, the SmartaHQ account is fed by Smarta.com. Tools, advice and news, as well as info on the annual Smarta 100 contest.