There are a host of ways video marketing can benefit your business, including the fact that customers are 34% more likely to purchase after viewing a video advert, and on landing pages, video can increase conversions by up to 80%. So when you're building your content strategy, what are the essential videos for business marketing to include?
Regardless of your business size or level of investment, the following types of video should be your business priority to increase sales as well as awareness, and to reduce costs in other areas of the business. By optimising your core videos, they can provide the return on investment to justify increasing your spend. Especially when Facebook and Twitter have increased the reach of videos on social media, including the introduction of autoplay for video content.
Find out how video marketing has gone from 'nice-to-have' to essential in 2015
Click To Tweet
Company and Culture Videos:
Creating a great video introduction to your company and culture gives you an asset to be used in a number of different ways. And it doesn't have to be a feature-length epic.
The first is to provide a welcome video for YouTube and other sites to explain what your business and channel is about. It should be around 60 seconds of less, which will keep it short, snappy and full of impact. For YouTube, it will autoplay and give a reason for new visitors to subscribe.
A Company and Culture video also helps you find better employees when hiring by showing a more dynamic and interesting place to work. A 60 second video can accompany the careers page on your website, but also be shared in a variety of external locations, including LinkedIn.
You also now have a great shareable video for existing employees to share with potential new customers, and to spread generally to their friends, family and other networks to explain where they work. It's a great way to allow your team to become better advocates for your company. And why not interview your employees about their work, and their greatest successes in helping your customers and clients?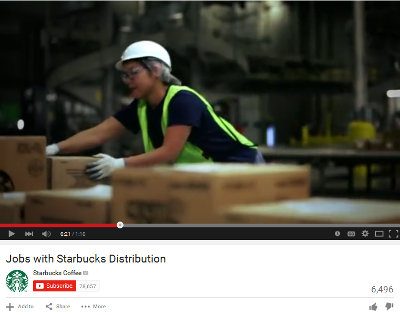 How much more interesting does a career in Starbucks Distribution seem after watching this 70 second video?
The aim in this case is not to reach every video viewer around the globe, but to target the best potential staff for their distribution centres, and celebrating their staff at the same time. And the subtle mention of the employee perks feel fairly natural.
Keep any company videos regularly updated to reflect the latest information about your business and you'll have an asset ready-made for any advertising opportunities that might spring up. Older footage can also be used in the future to create a company history as required.
Product Videos and Tutorials:
Creating videos to explain and demonstrate your products will help to increase your sales. Whether you're selling a physical or digital product, you can potentially sell a third more, just by adding videos to your product pages. And that also applies to services you may offer.
Not only can you first increase your sales, but you can also lower your customer service costs. If customers can refer to a clear explanation of how your products can be used, then they will be more likely to buy the right product and use it correctly. Which means less confusion, less returns and complaints, and happier customers.
On sales and landing pages, these should be kept relatively short. Around 2-3 minutes is plenty, but more detailed footage and explanations can always be utilised elsewhere.
The Will It Blend? series of videos from Blendtec have almost become a cliched example of product demonstrations, simply because they have been so successful. But even after eight years, it still attracts a massive audience, from hundreds of thousands for this Avengers-themed video, to millions of views for the destruction of Apple products and seemingly ordinary examples like marker pens.
The results were a sales increase of between 500-700% and it is still delivering a return after almost a decade.
Customer Interviews & Testimonials:
Hopefully your business has a regular supply of happy clients or customers. So why not promote your business and theirs by conducting video interviews and case studies of how you were able to work together?
Yamaha Motor Europe has unveiled a range of retro motorcycles, and a series of collaborations with motorcycle builders around the world. And their videos show the excitement and passion of their partners as a result.
In addition, their collaborations promote how easy it is to customise a Yamaha motorcycle to your personal specifications. And both Yamaha and their partners produce a range of products to do just that. The result is increase awareness and sales for all involved, and Yamaha is now part of a booming custom motorcycle market.
Customer interviews, reviews and testimonials can drive sales, particularly when the customers are honest and authentic. Seeing the results of your business for people like ourselves is likely to convince us to make a purchase, rather than seeing overly-polished actors in their place. And customer interviews can be part of focus groups and other feedback processes which may already be part of your business.
Going beyond the essentials:
Getting the essential videos for business marketing right means you can then look to expand in the future. Other potential types of video which can help your business include presentations, webinars, event videos and even vlogs as your revenue grows.
Have you launched video marketing for your business yet? Share any great results or stumbling blocks as a comment below.