Following positive feedback during testing, Facebook has today, Wednesday 24th February 2016, announced the global roll-out of their new Facebook Reactions 'Like' Buttons.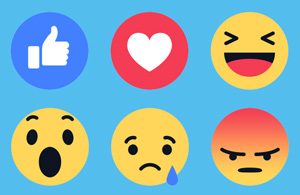 Why has Facebook made such a radical change?
Facebook's Product Manager Sammi Krug said in today's press release:
'We understand that this is a big change, and want to be thoughtful about rolling this out. For more than a year we have been conducting global research including focus groups and surveys to determine what types of reactions people would want to use most. We also looked at how people are already commenting on posts and the top stickers and emoticons as signals for the types of reactions people are already using to determine which reactions to offer."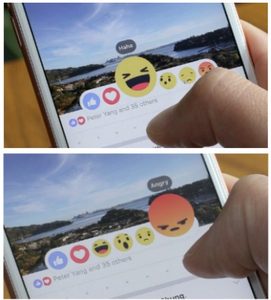 The like button options now include:
Like
Love
Haha
Wow
Sad
Angry
To be able to use the new feature, mobile users need to hold down the Like button which will trigger the options and they release as the one they want to use increases in size. Whilst desktop users simply need to hover over the Like button and the selection of Reactions will pop up, enabling the user to make their choice from those displayed.
Historically, many people have been uncomfortable 'liking' a post if it contains sad, or bad news. Additionally, a simple 'Like' is not always good enough, so adding 'Love' and 'Wow' allows us to quickly express how we feel about the post contents.
But what are the implications for Business Users?
Will Facebook algorithms start using the responses to adjust the post's news feed exposure? Maybe not straight away, but accordingly to a comment in the second of today's press releases on this topic (News Feed FYI: What the Reactions Launch Means for News Feed), they probably will do in the future:
"Over time we hope to learn how the different Reactions should be weighted differently by News Feed to do a better job of showing everyone the stories they most want to see."
As a business owner, I will look at the positive side. Facebook Reactions will provide more meaningful data for my business posts. If the content I post on my business page provides value to my followers / readers / customers and is appealing, then the reactions should reflect this and the potential viral reach of the posts will improve accordingly.
What do you think? Have you noticed a difference in engagement to your posts now the Facebook Reactions are here?
Facebook rolls out the new Facebook Reaction 'Like' Button Globally - How could this impact business posts?
Click To Tweet