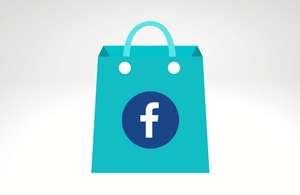 Facebook has brought forward the introduction of Facebook Shops, its own shopping platform within Facebook and Instagram platforms – a direct result of COVID-19.
Businesses can now sell their products within the social media environments their customers are used to.
Potentially, this is a huge opportunity for small businesses to take advantage of.
What is Facebook Shops?
Facebook Shops provides ecommerce functionality within the social platform itself without requiring a separate e-commerce website. As Facebook also owns Instagram, this functionality extends there, too. Eventually, Facebook plans to take it into WhatsApp, another of its brands.
It's a canny move for Facebook, because it keeps shoppers within that world. Think of how Google is now trying to solve searchers' questions within its own search results pages – without the user needing to click through to YOUR website.
How Facebook Shops works:
You upload your products, rather than link an existing catalogue
You can categorise products
Potential shoppers can contact you as usual through page messaging
You'll see insights on product views, clicks and sales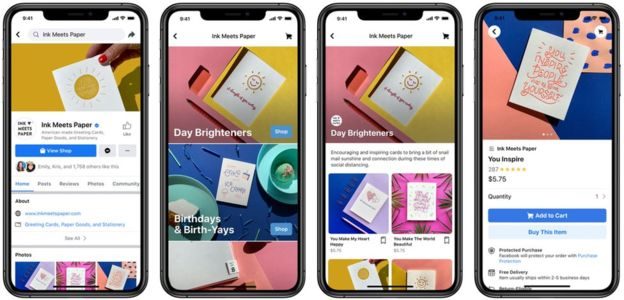 The pros & cons of Facebook Shops
The benefits of Facebook Shops for small businesses
1. Your shoppers know this platform
Facebook is a part of daily life and we all know it well. Shoppers will therefore feel safe and secure spending money and shopping within the platform, rather than clicking off to another site. There isn't a cost for businesses to use Facebook Shops, so it's a cool bonus.
2. In-app purchase may aid your conversion
Getting as close to one-click sales as possible is always great for conversion if you're selling fairly low-value items, so being able to promote a product and sell it right then and there is fantastic if it suits your business model.
3. Customer service is built in
Buyers will be able to communicate with you in the way they know, through Facebook Messenger, Instagram Direct, or WhatsApp.
4. Facebook users will be incentivised to buy within the platform
Facebook also plans to roll out a loyalty scheme for buying in the platform, and Instagram will get a new Shop tab in its navigation.
Instagram has already done a lot with bringing products into the app, but bringing payment in is a big move in terms of customer conversion.
The downside of Facebook Shops for small businesses
1. Potential lack of control
If having a direct business with your own online shop is important to you, Facebook wants to take that for itself. You'll hopefully get sales, but you'll be beholden to Facebook's rules and whims.
2. An extra channel to manage
Much like managing Amazon and eBay sales is a whole job in itself, Facebook Shops is another channel that will act differently and require maintenance.
3. Advertising costs
Ostensibly, Facebook is helping small businesses survive COVID-19 by making it easy for customers to buy while brick and mortar shops are closed. However, advertising on Facebook to drive business to your Facebook Shop can require quite a hefty budget.
It's a good alternative for servicing your existing customers, but gathering new shoppers may be a big challenge for a small business.
So, is Facebook Shops for you?
If you used Facebook to inform your customers about adjustments to your service during COVID-19, the answer may be yes. Businesses that already have a large community on Facebook can use this lovely addition as a bonus for facilitating sales online.
Businesses that would need to amass such a group of customers in order to benefit from Facebook Shops may struggle.
Behemoths like Facebook are trying to do what apps like WeChat in China are doing already: bring every consumer experience into their domain. Communicating, purchasing, reviewing and booking – all in an app. The race is on and Facebook owns the apps it needs to win.
Read about the Facebook Shops release and how to set one up for your business.