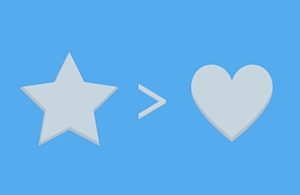 The latest shocker to hit social media land: Twitter has suddenly and brutally changed the familiar Favourite star into…
A LIKE HEART.
Yes, that's right. Twitter, home to commercial show-offs and irony, has copied Facebook. Facebook, home to photos of our dinner and videos of our dogs.
So what?
So what?! This is a momentous occasion and personally, I'm fuming.
For one thing, Twitter is basically my shopfront. It's where I try to lure in clients with my searing wit and impeccable grammar, and interact with my colleagues and copybuddies.
I don't want to click a heart that explodes into a little firework to show I appreciated an eminent advertising agency's new whitepaper about the deplorable lack of women in boardrooms. It just doesn't seem appropriate.
I also don't want to heart every single link I'm just saving for later. The Favourite was a low-key move. The Like is an emotional rabbit hole.
What it could mean for your business
I'd anticipate a temporary downturn in the number of Favourites, sorry, LIKES you'll see on tweets that aren't about the feels.
Tweets about cats, the John Lewis Christmas advert and Beyoncé – Like heart. Tweets about your double glazing sale, a new whitepaper discussing growth in feed crops and your latest article about social media – silence. After all, you wouldn't give your heart away to just anything, would you?
As we've seen with Facebook's Dislike button, attaching emotion to a social action is very tricky. It's prescriptive and it takes people a while to get over the change. I'm sure hearts will soon replace stars in our lives but for now, I'm not pleased.
I'd be BEYOND interested if you notice any change in how people are interacting with your tweets following the change – leave me a comment below.
Like vs. Favourite: is Twitter being too prescriptive with how we engage our audience?
Click To Tweet