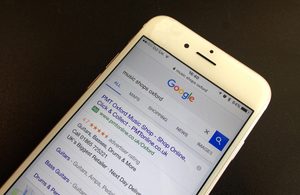 Ever since Google scrapped the right hand side ads from searches, there's been potential to rethink standard ad formats. Previously advertisers were restricted to set characters counts of 95 for both headline and description text (not including the URL), but with more space available at the top of each page now, and more users searching by mobile than other devices, Google has taken the decision to alter ad formats to keep up with changing user and advertiser experience.
The result is the Expanded Text Ad – an advert with a larger character count and a different format.
Expanded Text Ads have two 30 character headlines and 80 characters of body text. Headlines appear next to each other or on separate lines, depending on the device.
These new larger ads are available now, but owing to the scale of the change Google is allowing for a long adjustment period so that advertisers can experiment and test the new ads alongside their existing ads. From October 26th this year [update 13/9/16: this has now been moved to January 31st 2017], users will no longer have the option of creating new standard text ads, and the Expanded Text Ads will take over as the predominant ad.
So are the new Expanded Text Ads definitely better for users and advertisers? And is it worth advertisers' time rethinking their existing PPC ads?
Four reasons to switch to Expanded Text Ads now
They're twice the size of the standard text ads, and so offer that much extra space in which to include key messages and give users more information about your business.
As with standard ads, you can still test how your Expanded Text Ads will appear in the search results before you publish them. You can also test how the newer ads compare to your standard ads in terms of clicks and click through rates. Some early tests have suggested that click through rates for Expanded Text Ads are significantly higher than standard ads.
Separate device bidding means you can set different base bids for different devices, giving you more control over the variables without the need to create separate campaigns for different device types.
Google claims that the new ads offer a better experience for mobile users – and as most UK users search from their mobile devices now, it makes sense to improve their user experience.
Four reasons to wait before switching to Expanded Text Ads
There's no rush; you can still create standard text ads until October 26th, and even then existing standard ads will continue to run alongside the expanded text ads.
While the increase in characters for headline text is good news, some users have found that certain headlines (depending on character width, as narrow letters take up less space) truncate in the finished ad – meaning that in some cases advertisers are better off using shorter headlines anyway. Google itself recommends limited the combined headline characters to 33, however it is possible to check the ad headline for truncation before it goes live.
Part of the drive behind offering larger ads was to deliver a better experience for mobile users, but results have been mixed so far and more data would be beneficial.
More space doesn't automatically equate to a better ad. Advertisers need to think carefully about their messaging and keywords, and consider writing ads from scratch rather than simply adding in extra filler text.
So should you get involved in the new Expanded Text Ads right now, or should you wait a little longer until more data is available?
Whatever you decide, make sure you test your new ads against your existing ones so that you can get first hand data showing whether or not they work better for you. More space might mean more room for keywords and messages, but in practice more content isn't necessarily better content. If you can say what you need to say in fewer characters you should still do so.