When your search query returns a search engine results page (SERP) that consists of a mixture of different listing types this is known as 'Universal Search'. In a previous post we illustrated where PPC ads and organic listings are displayed; in this post we will show how the results returned can differ for local searches.
Google has stated that 20% of all searches are 'Local' and with the increase in searches on mobile phones this number is rising. When a local search has occurred Google will display Google Places results alongside the organic results.
Google Places listings are free (as they appear alongside the organic results they cannot be purchased). When you sign up for Google Places you must enter your business details and then verify them. Once this is complete you are ready to get started with your Places page. Just like optimising your website for the organic listings you need to optimise your Google Places page in order to improve your prominence on Google. Check out this blog that illustrates how to get the best out of you Places listing.
Google Places works well alongside SEO and PPC adverts because by returning all three types of listings you are taking more of the available real estate on the search engine results pages away from your competitors.
Let's look at some Local SERPs.
Search query = Plumbers Reading
Places results are returned in a list format above the organic results. When Places results are returned a map is displayed at the top right of the page showing the location of the businesses returned in the Places listings. These are identified by red flags.
The PPC adverts are always returned in the same locations on the page, above the organic and Places listings and down the right-hand side.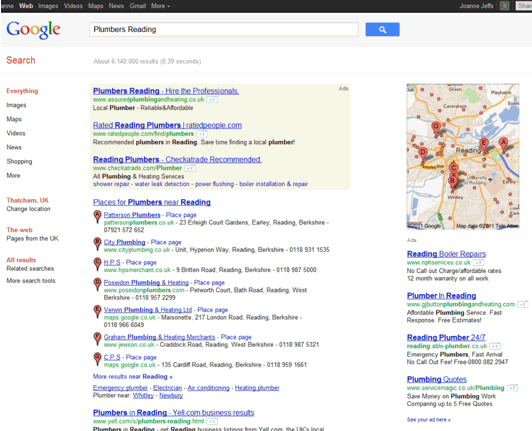 Search query = Hairdressers Reading
In this example the Places results have been integrated into the organic results, not listed above as per the previous example.
Again the PPC listings are in the same locations on the page. However, the Blue flag on the map and on the top PPC listing shows that this advertiser has liniked its AdWords campaign to thier Places listing by using 'Location Extensions' which can be found in the AdWords interface.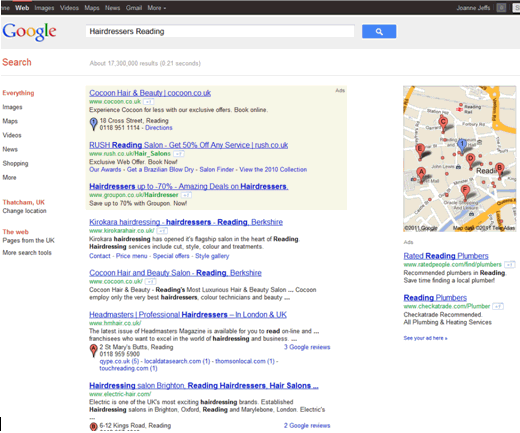 Search query = Builders
In this example I haven't entered a location as part of the search query, however Google recognise that when searching for Builders there is local intent so Google Places results are returned.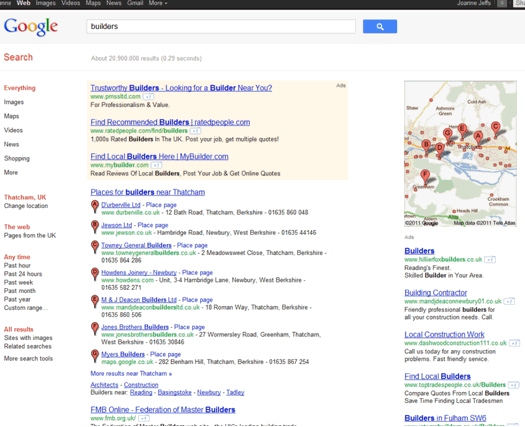 Maps Results
If a map search is carried out Places and PPC ads are both returned alongside the map as per the example below –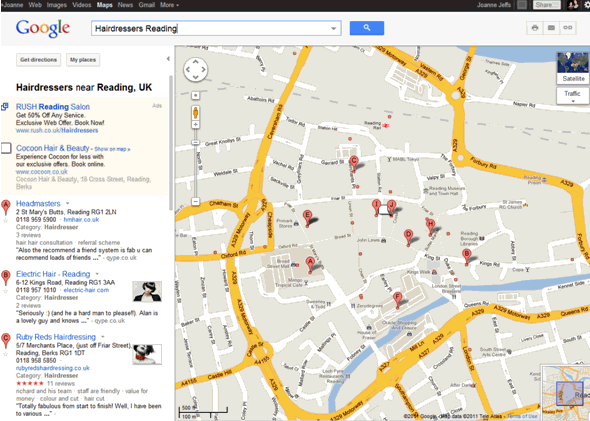 In summary, sign up and create your Google places listing if you don't already have one. Once signed up link your place page to your AdWords Campaign through Location Extensions, this can be done at campaign level allowing you to target multiple branches if you have them.