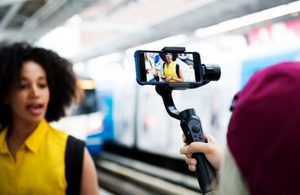 It should go without saying that influencer marketing is absolutely booming. And if you're here, chances are you're considering harnessing its power for your own company as we step into 2019.
But why is it so popular? Well, let's look at a couple of statistics from Social Media Today:
94% of marketers who use influencer marketing find it an effective practice.
90% of consumers trust peer recommendations compared to just 33% who trust traditional advertising.
60% of people consult blogs, vlogs, or social media content about products before considering a purchase, and 30% are more likely to purchase a product recommended by a non-celebrity blogger.
The potential here is staggering. So let's take a look at 6 ways influencer marketing is developing in 2019 and beyond…
Wondering just what influencer marketing is? These previous posts will get you up to speed…
Influencer Marketing: What Small Businesses Need to Know
The Risks – and Benefits – Of Working With A Social Media Influencer
6 Ways Influencer Marketing is Changing
1. Acceptance of Influencer Marketing as Legitimate Practice
As with many marketing practices, the concept of paying popular online creators to showcase a brand's products was once seen as a bit tacky; chiefly to the detriment of the content creator. "What a sell-out!"
However, 2018 has been pivotal in cementing influencer marketing as a legitimate practice for both brands and content creators. Those creating content for our enjoyment have bills to pay too. This realisation means that their income streams (e.g., Patreon, ad revenue, brand sponsorships, etc.) are becoming less taboo.
And as influencer marketing is becoming more mainstream, regulatory bodies also have to keep up. If an influencer doesn't adequately indicate that their post is sponsored, that can land both influencer and brand in hot water with the Advertising Standards Agency. The ASA has provided this guide for influencers to keep out of regulatory hot water.
Prepare to see more creators taking advantage of influencer marketing as their accounts grow, with micro-influencers also making an appearance…
2. The Rise of the Micro-Influencer
Looking at huge "internet celebs" and their multiple millions of followers can be a daunting prospect for smaller brands who want in on the influencer marketing action. It's often a case of "the larger the following, the higher the fee".
So where can a smaller-budget business start? The answer – micro-influencers. These lesser-known influencers may not have millions of followers hanging on their every word but are genuinely making waves in smaller, more niche communities online. They can even be – shock horror – just regular people who don't make their living from content creation! Even we mere mortals can be micro-influencers if we have a decent enough following.
If an influencer's following and your target audience align perfectly, then the quality of their followers may outweigh the quantity.
3. The Rise of Influencer Fraud
Genuine influencers create high-quality, engaging content for their followers and grow their following organically. Once that following is large enough, they may start talking to brands about creating sponsored content. The influencer creates their content, the brand gets their exposure, everyone's happy.
However those out to make a quick buck always have to spoil the fun. Fraudsters can pretend to be legit influencers, conning brands out of cold hard cash in the process. They set up profiles, buy fake followers (usually empty, throwaway accounts), and often post either stolen or purchased media. Once their following appears big enough, they reach out to brands to feature their products for pay. Thus begins the fraud.
Brands may be drawn in by the sheer amount of followers that the con-artist has without realising it's a big ol' ruse. And let's be honest, fake accounts can't buy things. The influencer laughs all the way to the bank with their fee and the brand is left out of pocket because they paid for marketing that few human eyes have actually seen.
Brands who are looking to work with influencers are encouraged to check out how many of an influencer's followers are engaging with their posts, how their following has grown over time, and to prioritise engagement with posts over potential reach.
Further Reading: Digiday's Cheatsheet: What you need to know about influencer fraud
4. Building Powerful Ongoing Relationships with Influencers
Working with an influencer needn't simply be a case of having them promote you, then coughing up the fee once their content is published. Savvy companies work hard to cultivate a meaningful relationship with content creators with mutually beneficial aims in mind.
Once you've worked with an influencer who appears to be a good fit, think about how you can keep them involved as a "brand ambassador" of sorts…
Content creators are passionate about creating helpful and entertaining content, so speak with them about what content they have planned for the future and suggest ways that your company can get involved.
If you're running a product launch event, would they be willing to attend a "meet and greet" with your mutual followers there?
Some influencers may be interested in launching their own product lines – if you provide a similar product, you may be able to collaborate.
The influencer/brand relationship needn't be simply "you promote our goods and we pay you for your time" Think outside the box for situations that can benefit you both!
5. Increased Focus on Measurement and KPIs
Measuring the return on investment from influencer marketing programmes has always been tricky. In fact, according to Linqia in 2017, 76% of marketers stated that measuring the ROI of influencer marketing would be their top challenge for 2018. (Source: Linqia, 2017)
It can be tricky to know what income has come as a result of which campaign – whether it's an influencer campaign or not! But there are tools out there that can help you track the consumer's journey through your site, such as UTM parameters – codes that you can append to the end of an URL to send custom data to Google Analytics; or if your online purchasing system allows for trackable discount codes why not provide a unique custom promo code for each influencer you work with – for example, "MARYC-10PCOFF".
Using this data should give you some insight into the consumer's journey. As well as measuring a campaign's effectiveness, it can also help you determine which influencers are a good fit for you.
6. What Weird and Wonderful Places Can You Find Your Tribe?
We all use the internet in different ways and we all have our favourite online places to hang out. But don't let that taint your view of where your ideal audience and influencers like to be.
For example, I lurk rather heavily on YouTube and Instagram – two very influencer-heavy platforms. If I was on the lookout for influencers, I may make the mistake of focusing on those platforms and ignoring other options, when in fact I'd need to look at where my ideal client hangs out and whose content they consume.
When you're choosing who to reach out to, don't forget about other content platforms and formats that are out there! Consider influencers on all social platforms, as well as other content formats like podcasting, blogging, or Twitch live streaming.
How will #influencermarketing develop in 2019? Let's investigate...
Click To Tweet
So, it's over to you! Are you tempted to promote your brand using influencers? What drew you to the idea? What kinds of influencers do you want to work with? Let's have a natter in the comments…