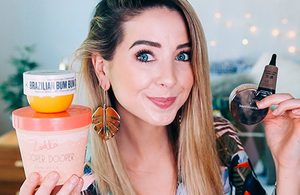 A social media influencer is a person who has a highly engaged – and often sizable – following on one or more social media channels. Social media influencers achieve and maintain this following by sharing regular images, videos and/or written posts about their lives and activities.
An influencer can be an expert in a topic, or simply a popular public figure. Some influencers have started from scratch, others had a boost from pre-existing fame. Many are open to the idea of promoting businesses to their followers in exchange for money, products or travel expenses; it gives them new content to talk about and helps them to keep their offering fresh. More importantly, perhaps, it helps make their activities online profitable.
Many social media influencers command large sums for promotional posts, with companies paying thousands of pounds for them to endorse them. Other influencers can be engaged 'for free' in exchange for a product, service or experience, for example a spa day.
Social media influencers will often work with businesses of all kinds and sizes, so long as the product or service is on brand.
However, working with a social media influencer isn't necessarily the best way to spend your budget. See the below risks and benefits of working with social media influencers to help you decide if it's a workable marketing tactic for you.
It could be beneficial to work with a social media influencer if…
Their followers are your target audience. Before you look at the number of followers, look at the type of followers the influencer has. Reputable influencers will be able to provide you with a basic info sheet about their stats and follower demographics. How old are their followers – where do they live, what are their interests and how much do they earn? Would they be interested in using your product and service? Even an influencer with a modest following could result in conversions if the target audience is spot on. In my experience it's far better to work with multiple smaller influencers with the right audience than one big blockbuster influencer with a large broad or off-target audience.
Your audience is active on the influencer's main social media channel. Most social media influencers tend to see more 'success' on one channel than another in terms of their following and engagement, so only opt for that influencer if your own audience is active on that platform in particular. If it's a newer platform and your typical customer prefers traditional social media, you might want to research other options.
If their posts get lots of likes and comments. This is a good way to gauge if the influencer is as successful as they seem to be. A large number of followers is no guarantee of engagement. If the followers really like and engage with the influencer, there should be plenty of activity on every post.
They agree to meet your content requirements. Make sure you outline exactly what you expect from them in terms of content – do you want video or images? Do you want temporary content like Instagram stories and Snapchats, or permanent content that will remain on their timelines? Do you want them to tag you – should they use a hashtag?
Be wary of working with a social media influencer if…
Their followers aren't your target audience. Most social media influencers generally won't agree to work with businesses whose products or services are 'off-brand' to their followers. However, if the arrangement would really benefit them, then they may well waive that rule. For example, a teenage fashion vlogger with a following of 12-15 year old girls may decide to promote an expensive hotel on her social media in exchange for a weekend's stay, dinner and spa treatments. The posts she creates for the hotel get lots of likes and engagement because her followers admire her and want to lead her lifestyle. However, is it likely that those young girls will be able to afford the experience the vlogger is having? The chances of the interest converting into actual hotel visits are slim.
The influencer isn't prepared or able to provide the type of content you want. If you want pure video coverage and the social media influencer you want to approach only likes static images or written blog posts, you may not be happy with the output.
The influencer doesn't fit in with your brand. Should a car mechanic based in Cardiff pay a popular travel social media influencer based in LA to promote an MOT offer? Obviously not. Research influencers who have an interest or line in your area. You'd be surprised how many niche blogs there are – check out this car mechanic influencer with 12,000 followers.
The reality doesn't stack up with their stats sheet. They have a reasonable amount of followers, but very little interaction with their posts. Always check through their recent posts, especially ones that appear to be ads or promotional posts, to get an impression of the results you would get.
Their asking price is too high. Many influencers command vast sums, which small to medium businesses might need to think twice about before splashing out on. Smaller, niche and cost effective influencers may be a better route for you, and connect you with a more targeted audience.
Now you are aware of the potential risks and benefits, you can decide on your budget and start researching relevant influencers for your brand. Good luck!
The Risks - and Benefits - Of Working With A Social Media Influencer
Click To Tweet
READ MORE: