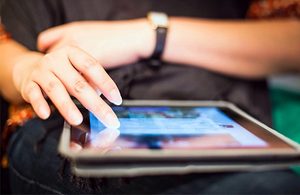 Impression share is an important metric within the PPC world. It's defined by Google as 'the percentage of impressions that your ads receive compared to the total number of impressions that your ads could get.'
In layman's terms, it's what percentage your advert appears in search engines for the search terms and locations that you're targeting. For example, if you have a 15% impression share, your advert is appearing 15% in Google's search results for the search terms you are targeting in your geographical area with the budget you have assigned.
A previous client of mine asked me how his advert could have greater visibility for his customers in his local area. He felt his advert wasn't appearing as much as he'd like it to which was his way of telling me 'please increase my impression share!'. If you feel you are in a similar position to this or would like to understand how to increase your PPC Impression share then please read on!
I gave my client a number of options to improve his PPC Impression Share. I'm going to take you through some of the options I offered:
Narrow Geographical Targeting
A common error by some advertisers, especially if you're new to Google AdWords is targeting your adverts for the whole of the UK when you have a limited budget or don't even serve all of the UK.
This will give you a lower impression share resulting in your adverts appearing less because your adverts appear in too broad of an area. In some cases, even 5 miles around your business location can be too large for your budget, you'd be surprised by how many users can search for your product or services in nearby locations.
A simpler view would be:
| | | |
| --- | --- | --- |
| Attribute | Example A | Example B |
| Targeting | Whole of UK | 5 miles around business location |
| Impressions (Ad Views) | 820,983 | 7,540 |
| Impression Share | 6% | 71% |
| Costs | £500 | £500 |
| Leads | 1 | 27 |
The narrower your Google AdWords campaign is around your business location, the more times your advert will show up in your targeted locations, the more users who are already familiarised with your brand and the likelihood of your conversion rate to be a lot higher. Ahh, the beauty of simply narrowing down your location and increasing your impression share is satisfying.
Review Keyword Options
You have plenty of options when reviewing your keywords which can all help increase your PPC Impression Share.
Review Keyword Match Types and Negative Keywords
Check over your keyword match types and discover which keywords have low impression share.
Your keyword match types may be pulling through a large number of search terms which may or may not be related to your business. Have a look to see what keyword match types you have within your account. If you click on a keyword and click into your search term report, you will be able to see what search terms are getting triggered by that keyword.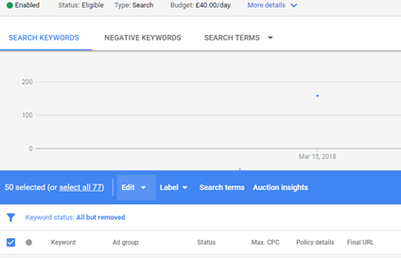 You can then either pause the keyword if it is collecting too many unrelated search terms or you can add negative keywords to block your advert showing for those irrelevant search terms. For example, if your keyword 'wedding planner' was bringing up search terms such as 'wedding diary planner' you can then set 'diary' as a negative keyword which will block your advert from appearing for any search term with 'diary' in the query.
You might be wondering what this has to do with Impression Share? Well, these irrelevant search terms are still fetching impressions and contributing to your overall impression share. A tidy up of your search terms can provide you with a true reflective of your true impression share from only relevant search terms associated with your business.
Remove Poor Performing Keywords
If you have reviewed your keyword match types, it's now time to review your full keyword list.
Are there any poor performing keywords which haven't met expectations? Any keywords which have lots of impressions but a low Click-Through-Rate (CTR) and/or little conversions?
First, make sure the user journey is correct for the keyword by checking from search terms, through to adverts, and onto the landing page. If you're confident it's not the user journey it may be time to consider pausing the keyword. Some keywords may be affecting your Impression Share and why let them impact your campaign in that way if they are not performing anyway?
Align Keywords Focus
Now you have your budget from the poor performing keywords, you can now utilise that budget elsewhere. The budget can be readjusted to your better performing keywords to aid them towards a greater impression share and make sure your advert is appearing more frequent for your best-converting keywords.
Identify your most important keywords and frequently searched terms for your business. Ensure you have a good Maximum Cost-Per-Click (CPC) bid and a high-quality score against each of the keywords as this will likely contribute to healthy conversion rates.
Increase CPC of Keywords
Raising your bids can also increase the likelihood of appearing in an ad auction and therefore increase impression share. What type of bid strategy are you currently using? It may be worth changing your bid strategy for certain low impression share campaigns to manual bidding.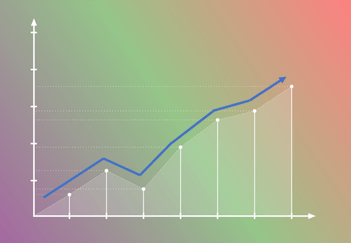 Manual bidding provides more control and ability to push certain keywords to improve impression share. You can also bid for impression share using some bid strategies, third-party bidding software or Google Scripts. Often some of these can drive spend up however so be cautious If you decide to take this approach.
Improve Quality Score
Quality score is a metric assigned to keywords which determines the quality of your user journey. Will the customer's search term reach your relevant advert in your targeted location landing on a page which loads quickly and describes the service or product they are searching for with clear Call-To-Actions?
It's pretty much drawing the dots together to make sure the user experience is the best for the customer. The higher your Quality Score, the lower your CPCs and the more auctions your advert can serve. Hence, it's important for your impression share as your advert will be eligible for more impressions and you will receive more clicks for your budget as well as increasing your chances of conversion.
Increase Campaign Budget
I would always recommend going through other sanity checks first before increasing your PPC budget to improve impression share. However, if you feel you have exhausted all options, it is time to increase your budget.
Identifying what the ultimate goal of your PPC campaigns should influence your decision. If your main objective is sales or leads and your performance is strong enough to increase your budget then definitely consider increasing. If performance is not at the standard you'd like it to be, then I would highly recommend at looking other ways to optimise your account to achieve a good enough standard before increasing your budget. The last thing you'd want is to increase your budget for little or no return.
If your aim is to increase brand awareness then it's down to the individual if you'd like further coverage regardless of performance.
This particular client actually ended up increasing his budget after a very strong performing month after we made the original changes to improve his impression share and his campaign.
What Happens In The End?
I went through all of these options with my client and we agreed the best course of action was a mixture of solutions and actions.
We narrowed down his targeting to align with his budget and reduced his targeting from 10 miles to a 3-mile radius around his business location. I removed some underperforming keywords, readjusted budget towards the higher converting keywords which helped improved his visibility for his better-performing keywords.
The quality scores were already in a great position so it was mainly a budget issue. All these changes we made though had a very positive impact on the campaign and saw his conversions double but more importantly to him, he was finding his advert more times when he searched for search terms relevant to his business.