March 30th, 2012 – the date of the Facebook timeline roll out. So, if you have a page for your business, you may find there are a few things you need to sort because of the new-look page layout.
Here are a few pointers.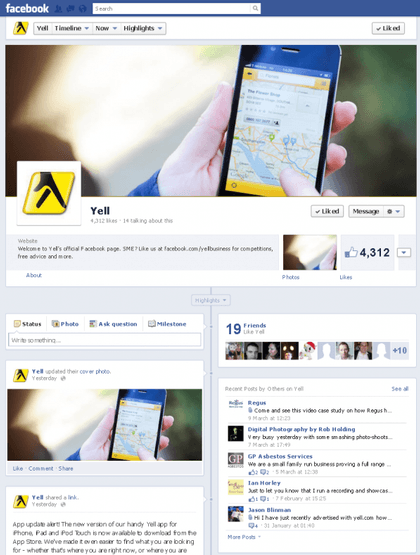 You'll need a big image. And not just a big image, but a wide one as well. The precise size of the new cover image space is 850px x 315px – so do you have a picture that you could resize, or is there an existing image that would look good in this 'letterbox' format? By default, this is left empty if no image is selected. Have several images in mind? This feature could work really nicely if you swap the images out every so often – perhaps to tie in with events like Valentine's Day, Christmas or sporting occasions – in the way a website would.
Page apps look different. Whereas before there was 520px-worth of width to play with, there's now 810px-worth. Apps already loaded onto your page will display with white space around the edge, so it's not a massive headache to start off with. The little image that represented an app (on the left of the old layout) has been replaced by something bigger as part of the Facebook timeline update – these are now 112px x 74px.
A default landing tab isn't an option at the moment. Previously, it was possible to display a welcome tab to new users who landed on your page but hadn't previously liked it. This encouraged them to hit like, and once they did that they were directed back to the page wall. Now, the homepage is the default destination. This is the case at the moment, but it could change. It is possible to direct users to specific tabs within the new Facebook page, by using the specific URL.
You can 'backfill'. It's now possible to add content that's tied to dates in the past. So, for instance, you might put up a picture from the day your physical shop opened, along with the date, and some info about what you sold at the time. You could then add more and more info about how the company has got to where it is today. If you are a business that's been trading for a while (maybe the type that would say 'Serving customers since 1955' in print or online ads), this is quite a nice touch – adding credibility and proving you are a trustworthy business.
New admin panel. A new module, at the top of the page but only visible to page administrators, lets you know what's been happening at a glance. There's info on the latest likes and comments, a graph showing top-level stats, a list featuring the latest people to like the page and a messages section. This can be hidden if you prefer.