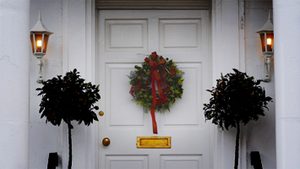 I often talk about using video to build an audience, to build a relationship with customers and to demonstrate your expertise as a business person. In this blog I want to talk about a video I made for a client that has been running for several years. I think of this video as a slow burner. It's also a seasonal video and that's been an important Factor in it's success.
This will be a case study if you will, and we will examine the aims of the video that was made. We will also look at how we planned the video and at why it has been successful. From this we will be able to draw some lessons for future marketing video Productions.
What do I mean by a slow burner?
When I talk about a video being a slow burner what I mean is, the video builds success over time. In the example we'll be looking at the video has been running for just over 2 years now. In those two years it has gained approximately 4000 views. That's an excellent result for a marketing video made by a small business. The video was designed deliberately to be useful over time. This means that year after year people return to watch it and new people discover it in their searches. This is what gives us our growing viewing figures and also attracts more new viewers as the years go by.
...there are several thousand people living nearby that are now much more aware of the incredible skills on offer...
Click To Tweet
What were the customers aims for the slow burn a video?
The client Wanted a video of that would enhance their reputation. They Wanted a video that overtime would get them new customers. You will notice from the video that the client was a Florist. Luckily for me the client was a very Gifted and award winning florist. That meant we were able to use her skills as the bedrock of the video we would make.
How did we design our slow burner video?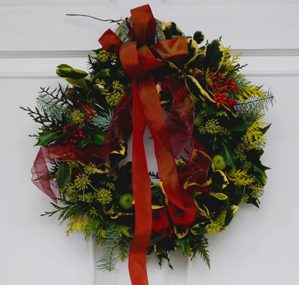 From my previous blogs you will know that I am very keen for my clients to build a reputation by displaying their skills. 'How To' videos are a great way of building a reputation with the general public. In this instance I thought a 'How To' video would work particularly well. One of the major factors in my thinking here was the seasonality of the floristry business. The busiest times of the year for florists are Valentine's Day, mother's Day and Christmas. If we wanted to use a demonstration of skills to attract new customers we needed something the florist could demonstrate that customers would want to recreate themselves. To me the answer seemed obvious. We decided to make a video about creating a Christmas door wreath.
Making a door wreath is a seasonal activity that a lot of people undertake. That means there will be lots of people searching for how to videos. Combining this with the incredible skills of my client led me to believe we could make a very successful video.
I designed the shoot as a multi camera recording. We set up in the Louise Florist shop in October, giving us plenty of time before Christmas. The shoot lasted half a day. Kate, the award winning florist in question, had already prepared all the items she would need and knew what wreath she would be making. I set up one camera as a close-up of her hands as they worked. The second camera was a wide shot to capture the whole event. I also used a third camera for an alternative view to aid in the editing process.
How did we attract people to our slow burner video?
We did all the Usual things when posting the video. YouTube was the first site to which we posted the video, because this is a site most people use for searching for how-to videos. We shared it extensively on Facebook. In addition, we used the links Louise Florist has in the floristry industry to share the video. This meant we got an initial influx of viewers when we first published. As Christmas approached we shared the video again. But at this point something interesting was happening. We started getting viewers not from the places where we had shared the video but from actual search results. The way we had tagged the video in YouTube meant the viewers who were searching for it were able to find it. Then because of the quality of work on display in the video, people watched it and shared it themselves.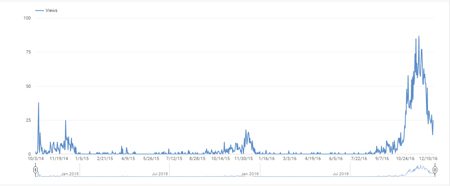 This gave us a great result in the run up to the first Christmas online. Over the course of the next year the video still got views, but many fewer. This is a seasonal video deliberately aimed at the Christmas Market. However that also gave us a benefit. As Christmas approached many people were again searching for a 'How To' video on wreath making. Views picked up without any input from either myself or the client. We then began sharing the video again as Christmas approached and this give us another boost of viewings. By this time as I recall the video had around about 2000 viewers. What is really interesting this year is that we haven't shared the video. Neither myself nor the client have taken any positive steps to get more viewers.
What Has happened to our slow burner video?
Because of our previous efforts and because of the quality of the content of the video, people have watched it and found it useful. That means the video does favourably in the rankings when people search. So from a figure of two Thousand viewers by the second Christmas we have grown to over 4000. The native search function of YouTube has almost doubled the number of views which the video had. In the larger scheme of things 4000 views may not seem like a lot, but it's actually a very substantial number.
Louise Florist is a business in a town with a population of 50,000. That means that as many as 8% of the whole town have seen the video. Now in practice many views actually come from other parts of the country and the world, but the majority are from the business's home town. This means there are several thousand people living nearby that are now much more aware of the incredible skills on offer at Louise Florist.
In making this video we gave away some of the expertise that Kate has, but in doing so we have enhanced and cemented her reputation for being an expert.