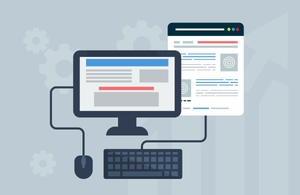 Your business website is an integral part of a larger marketing plan. It is therefore important to understand the purpose it must play. Your website is usually the cornerstone of an online marketing plan, providing a presence for your business. It's the online equivalent of owning a high street shop or prominent office. On many occasions it is defined as being the centre of a business' universe and is generally the place where other marketing activity is attempting to drive traffic to. In a recent survey on the business impact of a strong online presence, 80% of respondents saw their business website and social media presence to be the most important aspects for generating leads and sales.
Your business' website strategy and how you engage a visitor are the deciding factors in the daily battle with competitors both large and small. It is vital that you understand the strategies behind your business website and are absolutely clear what functions it must perform, both emotionally and logically.
There are two key strategies to consider. Small business websites must include a website marketing strategy and website content strategy. The website marketing strategy covers the purpose of the website for business, the function it must perform and how it must be found. Website content strategy considers the reader, how they scroll around your website and the marketing messages that the reader must see.
Why We Need a Website for Business
Depending on the nature of a business, the website may be the lifeblood of sales activity, or simply an information hub. Let's take a look at some typical functions of business websites:
Online retailer – the purpose of this type of website is to engage the visitor, leading them into specific areas of interest, whilst providing an incentive to possibly buy one or more products that have been specifically chosen for them. There is an online shop with a shopping cart and checkout facility. This is more commonly known as an e-commerce website. Due to its nature, it is very easy to provide a "cold" experience, a pop-in, pop-out transaction-lead facility. The challenge with this kind of website is that it is very easy to attract visitors who shop on price. The danger is that the visitor is a habitual shopper and they continue to shop the internet for better bargains. There is no brand loyalty here and as soon as they find products cheaper than yours, they are gone.Without a good website marketing strategy and content strategy, it could prove difficult to entice a shopper for repeat custom. Most of us are familiar with this type of website and most likely will have shopped on them. A good example of a well-known online shop is Amazon, who has continued to refine their strategies to provide a warmer buying experience. They make good use of 'customers who bought this item also bought' and 'frequently bought together' cross selling tactics.
The next category of a business website is similar to the online retailer. This is the catalogue style, whereby products are displayed however there isn't a checkout to complete a purchase. The purpose behind this type of business website is to present an online catalogue or brochure. Typically this could be a manufacturing business who sells its products to wholesalers or retailers, with the product eventually being sold to the end user. A typical example is a car manufacturer.This type of website will have information for their customers to refer end-users and it allows the eventual purchaser to gather information before committing to visiting the business and engaging with a salesperson. The website is therefore providing multiple functions in respect of brand awareness, information and a safe place to browse without the pressure of a salesperson hovering, ready to pounce! It should support the sales and marketing teams by allowing a prospect access to certain data to form an opinion, which in turn will hopefully lead to an enquiry. The online information serves as a catalyst to a potentially faster sale when the prospect and salesperson finally meet.
Our third example is a manufacturer/wholesaler that may publish paper catalogues and/or have showrooms. The strategy behind these small business websites is very different. The purpose of their online presence is to provide contact details, almost like a directory, pointing the visitor to the right place or person to answer their enquiry. There can be multiple reasons for less content on these websites. Perhaps there are too many products to list online and therefore it would be cost prohibitive to add them to the website. They may sell products where the supplier prohibits the goods being advertised. They may sell many end-of-line products.The main strategy could simply be personal contact. The business is local/regional and they wish to develop closer, long term relationships with their customers. To achieve this, a visitor to the website is encouraged to pick up the phone and discuss their requirements with customer service. With modern technology, this could be facilitated by a web chat room. If the business sells fast-moving, fast-changing products, the maintenance for a shop/product display/catalogue may not really fit with the product lines. Speed sales usually require a completely different approach.
Service industries employ different website strategies again. They tend to be brand led. The content describes the services they offer and provides a small amount of valuable information, including testimonials. This is generally used to show competence and to provide the visitor with a degree of confidence that they will be looked after. To be more personal, typically these websites use team photographs with the view to demonstrate experience and expertise to provide the visitor with more confidence and direction in respect of who they should be speaking to. A typical example would be a consultant or a firm of accountants.
There must be an overriding purpose behind your business website. What do you want it to be, to do and to say?
In essence, what is your business website asking your visitor to do? What do you want them to say about your website once they have visited? What kind of experience do you want a visitor to have? Are you enriching their lives by meeting all of their needs in one visit, or removing any fears they had, so that they take action, eventually leading to a sale? How will your business know? How will you measure this?
Many website designers produce eye-catching websites. Whilst design is important, functionality is the key. The words used will either open relationships with a visitor or potentially close the door for good. Website content strategy, therefore, performs numerous functions with the primary goal to entice a visitor to your website and transform them into a customer.
At the beginning of this article, I explained that the website strategies a business employs forms part of their overall marketing mix. Having discussed a number of different types of small business website and the strategies behind them, the big question is – are you clear what purpose your business website MUST play in your marketing plan?
This article was originally published on 19 December 2014, and updated on 19 November 2021.