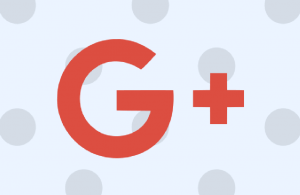 Since its launch in 2011, Google+ has not been a flier. I think we can all admit that now.
The trouble is, we're all still at the mercy of the company's INFINITELY more successful search engine. And Google likes to feature its own pages (like maybe your Google+ business profile) high up in search results. Go figure.
So… Do you really need one?
Maybe it's not worth updating every day or even every week, but it is worth having a profile just for the networking opportunities – which is, after all, the purpose. It's a good-looking profile to have and the way you publish content is really easy to tailor to different audiences.
Photography is an area that still has a massive presence on Google+, so if you're a photographer, this platform is definitely one for you. For quite a few niche walks of life – Pokemon Go!, Harry Potter and other such fanatical fandoms – there is a fervent love for Google+.
Even if you're not a Potterhead, there are still people using Google+ in their millions – so customers are there. If that's not enough to sway you, I'll give you my last argument: it's a box to tick for Google's approval.
Google also updated the whole experience in January, so the network is now quite easy and pleasant to use. If you've rejected it in the past, now might be a good time to take a second look.
A brief overview of how Google+ works
Circles
One of the best things about Google+ is its circles. These are separate networks of people, like colleagues and family, that you can choose to interact with differently. Anyone who's had to scour their Facebook page every time someone from work adds them will see the benefit of that.
For businesses, circles is a great way to keep industry contacts and customers separate so they get different content from you. These contacts will also see your profile in different ways – so family would get your birthday but maybe your clients wouldn't.

Circles is a method of tailoring content that I think all social networks would benefit from. So, Google+ does win that one. Just keep in mind that anyone is your circles can share your content – which means the rest of the world will see it. Don't call your customers names among your business connections because that stuff can get out pretty easily!
Communities
Communities are larger groups of people with shared interests. It's kind of like a forum – you won't know everyone but they'll have a common passion and can interact and post to the group.

When you look at the communities that exist on Google+, you realise how many people are still using this platform every day. I just dropped into a random community about skydiving and it had 250,000 members.
Like Facebook groups, communities can be open (so you just click to join) or closed, which means you have to ask to join.
Collections
Collections is another way to filter your content. Rather than filtering by who sees it, you group your posts into interests. When someone sees your post, they'll be able to click through to the collection it lives in, where the rest of your content about that topic sits. You can also gain followers for an individual collection.

Think Pinterest boards for content. Very useful if you want to group content by product, part of your business or area of expertise.
Stream
Your stream is a feed of what's going on with the contacts in your Circles. You can filter by circles which is really useful to cut out noise when you just want to know what your colleagues are talking about, for example.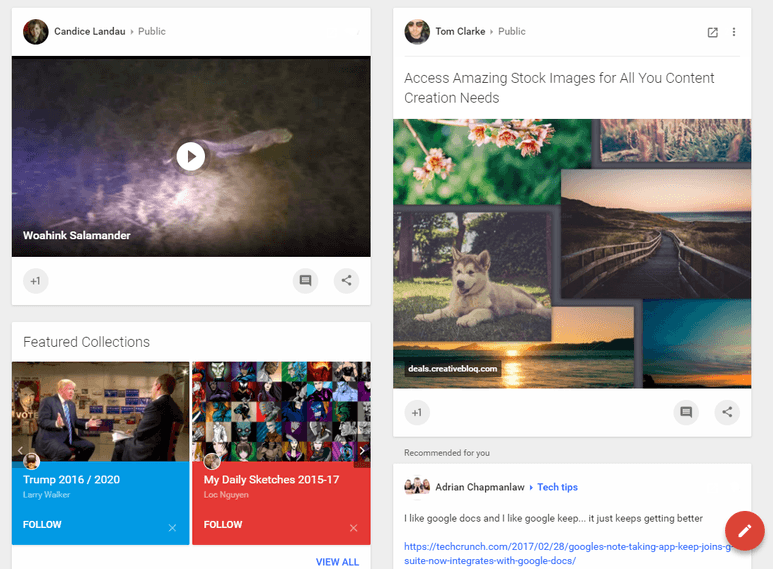 You can add stuff to your stream just like any other social platform, and you can choose which of your circles will get the update.
Hangouts
If you have plenty of contacts on Google+ (your work team, say), you can use hangouts for group discussions. This can be a simple chat or a group web call with video. It's quick, easy and free.
Profiles
Hey, you guessed it! Your Google profile has your picture, your updates, some contact details or personal information, and that's that.
Well, not quite. Google's profile actually gives you a lot of opportunity to provide in-depth information, with multiple link options from your profile (to your website, your other social platforms and your latest blog, say) – which many other platforms restrict.
New Google+ features for 2017
Polls
Events (previous incarnations had events but they're making a come-back)
Multiple image uploads
Drag and drop photo reordering
Zoom functionality for images
Better spam and low-quality filtering
A new look and feel – with no opt-out for the old style if that was your bag!
If you were interested enough to read this article, it's worth a five-minute trip to Google+ for a look at how the platform is now. Google hasn't given up on its social network and continues to invest money, so there's clearly a long game here and it's wise to get in while the getting's good.