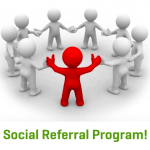 In an earlier post I explained how Social Media and e-commerce worked together to increase overall sales. You build a group of Fans or Followers on your chosen Social Media, whether it's Facebook or Twitter or another Social Media network – and then you sell to them indirectly through an integrated e-commerce site. And smart business owners will offer small discounts on shop items when people new to your site sign up on your Social Media accounts in a self reinforcing process. The term "Social Commerce" captures this idea nicely. But the real power of Social Media Marketing or Social Commerce is having your fans advertise your business to their friends using their own Social Media accounts. Fortunately, there are small add on applications such as the "Social Share App" that make this a whole lot easier for those on the common e-commerce platforms like Big Commerce.
Some businesses rely just on having the best, most exciting and funny content. And this is indeed a good strategy if you are creative enough and have some time to put such a campaign together. Us mere business mortals sometimes have to rely on more traditional marketing methods like "Member get Member".
In a traditional Member get Member scheme, when someone buys from you, you offer that person a discount or other incentive if they introduce a friend who subsequently buys from you. The friend would also traditionally receive a discount. This is an efficient form of marketing as often the person who originally bought from you will have friends with similar demographics and buying habits. And you get the benefit of a personal recommendation. It is thought that Internet shoppers referred by friends & family are 10 times more likely to buy than those referred by other sources.
There are similar examples in the word of Social Commerce. The Social Share App for Big Commerce, for example, automatically prompts customers after leaving your checkout to receive a discount on their next purchase by sharing the same discount with their friends through Facebook or email. If they share the deal, they are given a coupon code for their next purchase. At the same time, their friends and family will receive a coupon code for your store via Facebook or email. According to The Nielson Company, 60% of consumers researching products online learned about a specific product or brand through Social Media (mainly Facebook) so business owners cannot afford to miss this opportunity.
The Social Share App offers standardised coupons as incentives, but it is possible to create more customised versions using a Photoshop template yourself or have your web designer create something specific. In addition, the App creates a report that actually tells you how many times you member get member coupon has been circulated and redeemed. This particular App has a 30 day free trial and will thereafter cost around $20 per month.
The point is that the Social Share App takes the customers you already have and motivates them to refer you more customers. This boosts your traffic and sales without increasing your marketing budget. And in a truly perfect world, those referred customers also take advantage of your member get member discount and introduce even more friends! What is not to like?