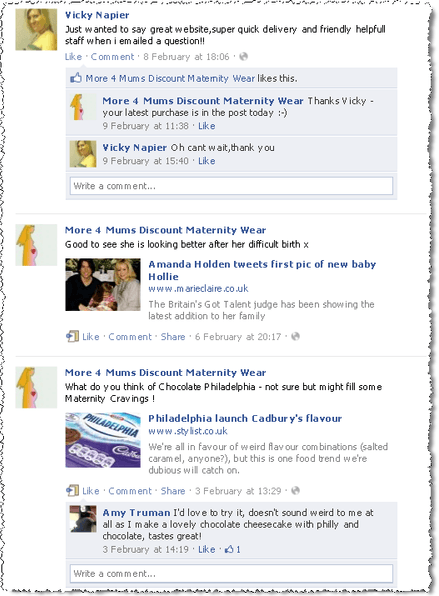 Each week, we throw a spotlight on a top Facebook page that deserves a big thumbs up. Pages featured here are making the most of what Facebook has to offer and can be held up as examples to learn from if you are a small business looking to get to grips with the social network.
These aren't pages with hundreds of thousands of fans, but are ones managed by small businesses looking to use the platform in the best way they can for their particular business.
This week's Star Facebook Page of the Week goes to More 4 Mums –a family-run business offering maternity and nursing bras, tops and accessories.
Why we think it's worthy of exposure:
There's the always-necessary link to the More 4 Mums website within the info section
More 4 Mums has used a free, third-party application designed for Facebook pages to create a 'welcome' section that is the first thing new people see when they arrive (they've made it the default landing tab). This links out to different parts of the company website, the company blog and Twitter account @more4mums
More 4 Mums replies promptly to comments on the wall
But here's the dealbreaker – there's a great degree of variety when it comes to posts put out by More 4 Mums. It mixes up offers – such as 10% off a product over on the website – with posts it has curated, such links to relevant competitions around the web, news stories and features. This helps to add more meat to the page, and More 4 Mums gets to inject some of its own personality into these posts by offering an opinion or comment along with them.
Congrats on a top page! You certainly have our 'support'!