As a business you should already have a good understanding of your target customer especially in terms of their age, gender, likes, dislikes etc.
Marketing well to your target audience is a skill – every message needs to be carefully crafted to attract attention, and subsequently tested, monitored and tweaked. If your target customer is a single male, aged 25-30, he will have very different buying triggers compared with a married female, aged 45-50 and your marketing campaign messages will need to be customised to reflect this.
As your presence grows on each of your chosen social media platforms, it is important, where possible, to check that the demographics of your followers matches your expected target audience. If it doesn't, there is a good chance that the marketing messages you share will not be as effective as they could be.
Whilst Facebook insights, which include a demographics area, has been around for a while now, Twitter has joined in this week by introducing 'Audience Insights.'
So how can you use these insights to help market your business?
Step One – Find the demographic information.
Twitter: make sure you are logged into the Twitter account you want the insights for.
Go to https://analytics.twitter.com/ and select the 3rd tab at the top from the left labelled 'Followers' and then just below, you should see a further tab to click called 'demographics'.
Note: You do not need to be a Twitter Ads customer to get this information, however, some data will not be available to accounts with a small Twitter following,
Facebook: go to your Business Page and click on the 'insights tab' via the top of your page, 4th option along. Then, below this click on 'People'. In here you can also view reach and engagement.
Step Two – Review the information
The insights from each social media platform can be reviewed individually, and if you are on both platforms, it may also be useful to do a comparison.
Below are 2 business examples using both Facebook and Twitter including snapshots of the demographic insights information available.
Example one:
This example features a business in a sports niche, which is known to be more popular with men, predominantly in their mid 20's to early/mid 30's. The target market for the business is mainly men aged 30+
The first snapshot is taken from Facebook insights and the second taken from Twitter insights.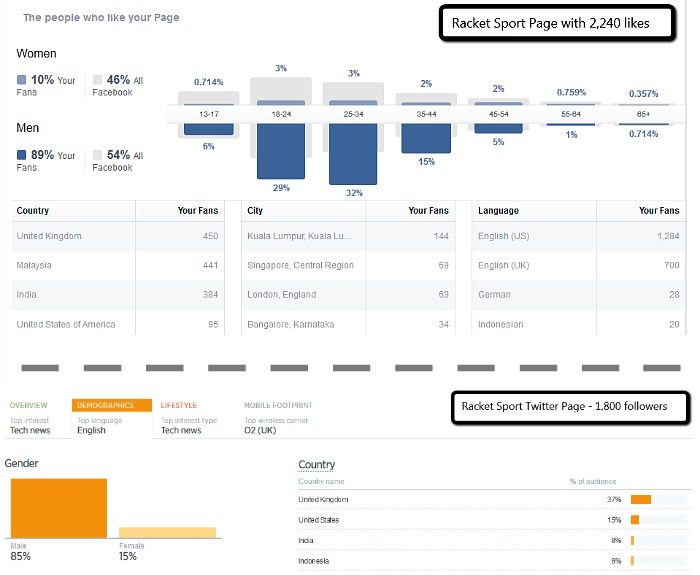 On both platforms the target audience expectations in terms of gender are fully confirmed. On Facebook though, it is interesting to note that there is also a good % of followers in their teens and early 20's.
As the business runs courses in the UK, the location information is useful, especially as it seems there are almost a 3rd more UK followers on Twitter than Facebook.
Based on these findings, the business should be able to use the same message on both platforms, as long as it makes sure any images are adjusted accordingly. (Facebook Page Post Photo: 1200px by 900px and Twitter feed photo: 506px by 253px – or larger, keeping to a 2:1 ratio)
Example two:
This examples features a business consultancy, mainly targeting SME's.
The first screenshot is taken from Facebook insights and the second taken from Twitter insights.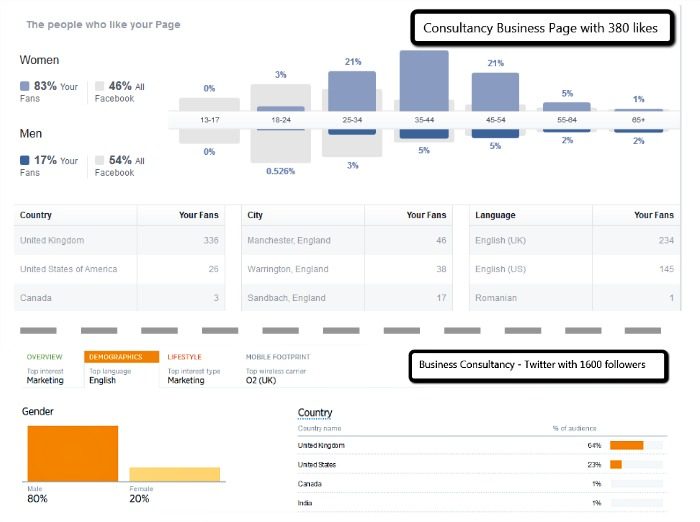 Whilst the service the business offers is not gender specific, it is extremely interesting to see from the insight snapshots that the audiences are complete opposites. Facebook is predominantly a female audience, yet Twitter is male. So, unlike example one, the messages posted should be crafted differently on each platform to ensure they resonate with the gender of the reader.
In Summary
The demographic information available within Twitter and Facebook insights is an excellent way of understanding your social media platform audiences better so you can build better posts and tweets.
Don't fall into the trap of making assumptions – if you haven't looked at your business insights yet, take the time to do so, as you never know what you might find!
Twitter launches audience insights to help businesses - find out more:
Click To Tweet