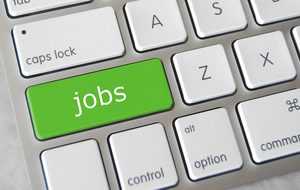 To get the best possible candidates it helps to have a wide pool of talent to choose from. With this in mind, many companies use multiple marketing mediums with which to attract new staff, from billboard advertising at train stations to attending graduate events.
The best candidates are often passive job-seekers, content in their current roles and not looking for new employment. This is why you really need to push your recruitment agenda in their direction with targeted organic and paid campaigns.
Social media marketing is an ideal vehicle for attracting new staff – here are 11 tips to get you started.
Maintain a branded, consistent presence across your major social media platforms. Create career-specific accounts to encourage as targeted an audience as possible, e.g. @[companyname]_careers. Use and follow relevant hashtags such as #needajob to attract and dig out potential talent.
Encourage your current employees to follow you and share your posts. Their connections may well be seeking a new role, or know someone who is. This works well in combination with a referral program – if you incentivise your employees to refer new staff, they've more reason to get involved with your recruitment social media activity. Additionally employees are unlikely to refer unsuitable candidates, so by incentivising a successful referral you're pre-qualifying your target employees to a degree, slashing your usual cost of recruitment.
Create a social media content strategy. It needs to detail your aims, target audience and key messages, and outline a pipeline of content. This will ensure your social media efforts remain targeted, consistent and maximise your results.
Mix up your content. Don't just send out job roles, but share photos of current employees and positive reviews, talk about perks and incentives, and highlight what's great about your workplace. Tag your employees in relevant photos if possible – this will increase your social media reach further.
Cross share between platforms. There will probably be some overlap between your audience on different platforms, but encouraging followers to follow you on other platforms can boost interest and followers.
Make it visual. Social media click and engagement rates tend to increase substantially with the use of images. Images and videos increase the appeal of a post, which can maximise reach and conversion rates.
Experiment with targeted adverts and sponsored posts. Whether you're a social media advertising veteran or relatively new to the game, experimenting with different content and target demographics will help you to establish which kind of posts result in the best engagement and conversion rates. You can often target users down to their interests and, through LinkedIn advertising, their current job titles. On the major platforms you'll also be shown how your advert will appear on mobile devices – essential in a time when the majority of social media usage takes place on mobiles and tablets.
On Twitter, instigate a targeted following campaign – for example if you are targeting graduates, seek out Twitter accounts for leading universities (and if active, individual academic departments for those universities) and follow their followers. This will encourage followbacks from a highly relevant audience.
On Facebook, 'like' and follow pages that your target audience may be following. This may include careers and university pages, or those relevant to what you provide as a company. If for example you're a technology company, you could 'like' and follow 5-6 tech publications and comment on some of their posts – particularly any concerning attracting/retaining talent, workplace culture etc. This will encourage these pages to 'like' you back. Work out what kind of pages your target employees might follow.
On LinkedIn there are some huge opportunities for reaching a wide pool of prospective employees. You can pay for a specific 'careers' page where LinkedIn will advertise all your current openings, which will also appear in the 'jobs' section of LinkedIn search. You can also target some users directly – search for keywords reflecting your audience, and direct-message every result that looks like a good match. 80% of LinkedIn users are 'passive candidates' – i.e. they're not actively job searching, but could be persuaded to leave for a better role. As some of the best candidates are often those not looking for a new job, directly approaching them can be one of the best ways to reach new talent. If you're not using LinkedIn for your business yet, follow our step by step guide to setting up a LinkedIn company page.
Measure the outcomes of your social media activity. You can do this by creating unique URLs and tracking them in Google Analytics, or more simply just by keeping an eye on your social media referred web traffic. This will keep your activity accountable and indicate which recruitment posts are the most successful.
Read more
How can social media help me to generate new content ideas?
11 tips for attracting the best new staff on business social media. #recruitment
Click To Tweet