Back in June 2018, at VidCon, YouTube announced a new feature called 'YouTube Premieres', giving qualifying creators the ability to schedule the release of a video with a dedicated public 'watch page' which could be shared in advance.
A couple of days ago, YouTube announced the rollout of this Premiere feature to all users.
So how can YouTube Premieres help small businesses?
As a small business you will already know the importance of finding, building and engaging with your tribe, community and fans – something YouTube advocated in their original article releasing the details of Premieres:
"The engagement between fans and creators is at the heart of YouTube. We're working on new ways to help creators strengthen those unique bonds"
This feature will help your business engage with your customers and prospects, by building hype and anticipation around a new product or service you have to launch, akin to the way the film industry have mastered the build up to the release date of a new movie.
For example:
You are a badminton coach and stringer. A new badminton racket (spotted recently in the hands of a well known highly ranked professional player) has been released by one of the major brands. You have a reputation in the market for providing honest and informative video and written reviews. Your fans are eagerly waiting to hear what you think of it.
Normally, you record your video review and then simply upload it to YouTube and click publish. YouTube then notifies your subscribers that you have a new video available to watch and they pop over to your channel as & when they get chance to watch it. You also create a blog post on your website and share the details with followers on other Social Media platforms.
Now, instead, you set a specific date & time for your fans to 'watch the release' of the new video together!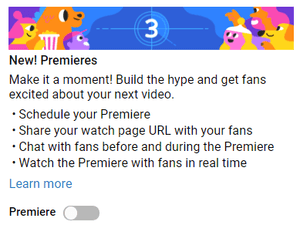 You upload your video using the 'schedule' section, then use the 'Premieres' area to choose when your video will go live. As soon as you click publish:
you are automatically allocated a public 'watch page' which you can immediately use to build awareness by sharing across social media and to your email list, inviting viewers to register to attend the premiere
a notification will be sent by YouTube to Channel Subscribers who have elected to receive them inviting them to register
fans who opt in to attend the Premiere can start chatting on the watch page straight away
What happens on release day?
Approximately 30 minutes before the video premieres, your registered viewers will receive a reminder notification
A couple of minutes before the scheduled start time, a countdown begins and another notification is sent to viewers
The Premiere video will also start to appear in your general subscriber feeds
As the video starts to play, you can jump on and be ready to interact with your viewers in the chat 'real time'. Note anything you say will be highlighted at the top of the chat for short time to maximise your exposure
Once the video finishes, it will be displayed as normal within your channel with the same URL as the original watch page
Prefer to watch a video overview? YouTube explain the basics here:
In Summary
I am really excited about this new feature and feel it has a lot of potential to create 'big online community events for your business'. It can help streamline your activities prior to product and service launches, as well as boost your engagement with your audience. In a way it's advance notice live streaming without the associated risks (bandwidth instability, nerves, video quality etc).
What do you think? Have you got something new on the horizon which could benefit from being showcased this way?
With YouTube rolling out YouTube Premieres to all users, how can this help small businesses?
Click To Tweet
PS: Need help growing your YouTube Channel?
Join YouTube's 'Creator Academy' which is full of guided lessons, courses, and bootcamps designed to help you to grow your channel, earn revenue and get closer to your community.