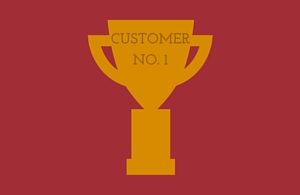 Customers, like horses, are beautiful but unpredictable beasts.
With the rise of social media and the increase in a customer's public voice, they are both a massive asset and a terrifying unexploded bomb.
Inviting customers to share their thoughts about your product is therefore pretty brave; necessary too, though.
Brands that don't welcome an open (read: for the entertainment of thousands) discussion about the pros AND cons of their products are going to be left behind.
We expect it, don't we? We tweet Tesco that we found a tarantula in our salad – with picture – and we expect an instant apology and referral to their VIP Make It Better Team.
10,000 Clubcard points for you, sir.
But welcoming customer opinion is about more than giving them a platform and a communication tool: your customers are one of your best marketing weapons and the way you champion them can make you awesome.
1. Customer case studies
Not the case studies of yore, those tomes of thousand-page PDF madness. Customer case studies should be short and sweet, in the customer's own words but guided *gently* by you.
Create a questionnaire with between five and 10 simple, open questions that will provoke answers about the key selling points of your product. Any time you get an email from a customer saying you did good (or bad, if you're brave), ask them if they'd mind answering some questions to help you make the product better.
Example:
What attracted you to [brand]?
What's your favourite feature?
What companies would you compare us with?
How much money/time/sanity have you saved with this product?
How would you explain the product to a friend?
You may not always get positive, usable content. But that's good too – it's stuff you can work on. The positive answers can then be used (with permission) in your marketing with a name and even a face to back it up as the real deal.
Think about the callout messages you use in your marketing – they're short. A big image, a headline, maybe a subheading. These are the kind of one-liners you want to be drawing out, not endless snoozy reports. If you need to edit for a bit more marketing zing (I've found customers are always on their best behaviour when answering in writing – lots of therefores and whilsts), just run the final copy by your champion for approval.
"I managed to get my budgeting time down to just an hour a month with Expertease."

Elle O. Elle
CMO of Midnight Magic Gentlemen's Clubs
2. Social shout-outs
Every week, your customers are doing amazing things with your products. Whether they're making more money, getting fit or surprising their pregnant wife with a nursery makeover – your product is helping them do something they're happy about. You won't know about those moments if you don't ask people to share them with you though, so you need to create a celebratory atmosphere on your social channels.
Retweet and reply to people who talk about you, and make a point of picking a customer a week (or month if you're only on 10 followers so far – keep going!) who's doing something awesome with what you sell. These are your champions and it makes everyone feel good when they get a thank you. They're also going to retweet your shout-out, showing all their followers what a great company you are…but that's just a nice side effect, right?
Social channel management tools like Hootsuite can help you track mentions of your product that don't connect with you directly, so you can grow your reach.
3. Newsletter features
If you're sending out a newsletter, reserve a spot for a customer story. Doesn't actually even have to be "Tidy Tyres hooked Janet up with such a great deal, she's sending her son to private school this year" – it could just be a cool way they thought of using your product.
One of Innocent's newsletters recently told the story of a horse who was really poorly. The vet advised that her owners give her plenty of apple juice and it turned out she'd only drink Innocent's. That's a great story.
Whatever you've been hearing in feedback from your customers, snag the best stories and get permission to share them.
Make people happy, make people buy
This whole exercise is about warming people's cockles. Because what happens when people's cockles are warmed? They feel nice feels about you, say nice things about you, and generally get good and ready to spend more money and recommend you to their friends.
Delight = dollar dollar bills, y'all. That sounds so callous but you know what I mean. (Actually, I'm not even sure I know what I mean with that last one.)
Have a nice time being nice!
It pays to be nice. Hold your customer champions aloft to attract more business
Click To Tweet