Whether you're a complete social media newbie or a seasoned veteran, we all like a helping hand from time to time. And when that help is free – even better!
So let's take a look at five totally free social media tools that you can start using today to take control of your social presence.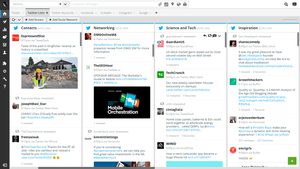 What is it? Hootsuite is a social media scheduling and management tool with support for over 35 social platforms (though you can only manage 3 on the free version).
In terms of social media tools – both free and paid – Hootsuite is well and truly one of my favourites. This tool allows you to schedule social media posts in advance – ideal for those of us with busy schedules who struggle to post something every day. It's also useful if you plan on having some time off but don't want your social presence to wither away while you are off getting some R&R. As stated above, you can manage up to three accounts with the free version but there's support for over 35 different social platforms. You can also add free apps and integrations to further enhance your experience.
Equally as powerful as their scheduling facility is their dashboard function that allows you to keep an eye on everything at a glance. Here you can set up different "streams": columns which can take the form of Twitter or Facebook search queries, Twitter lists, even your own scheduled posts. Hootsuite also boasts a suite of basic analytical tools, giving you easy to follow insight and data visualisations across most social channels.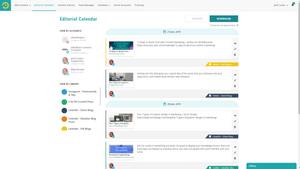 What is it? RecurPost is an easy to use "content recycler" that is compatible with Facebook, Twitter, LinkedIn, Instagram, and Google My Business.
This tool isn't very well known compared to the likes of Hootsuite but boy is it handy. RecurPost is a content recycler, meaning that you can load it up with content and it'll drip feed those posts out at regular intervals as dictated by you. When it comes to the end of a list, it'll simply jump to the top again.
Here's how it works. First, you fill up your "library" with posts you'd like RecurPost to publish for you, complete with links and media. Then, you apply a "schedule" to each library – providing a desired daily, weekly, or monthly frequency you'd like the posts in your library to be published. And voila! Your content will feed out to your social channels of choice automatically.
As with many of the options on this list, the free version is limited but for most people starting out with content marketing, it shouldn't be too restrictive. If you have fewer than 100 posts you'd like to recycle, at a rate of less than 10 a day, across three or fewer social accounts, you'll be fine. They're constantly adding new features – and the support team are great too!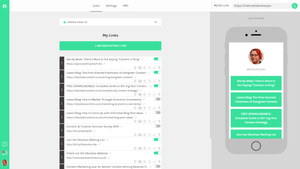 What is it? Linktree provides a single "brandable" link to share in your Instagram bio allowing you to drive traffic to a number of different destinations.
Instagram is a great platform, but one main drawback for marketers is the fact you can only provide a single clickable web link in your bio. If, for example, you're trying to drive traffic to a particular service page and blog post at the same time – which do you pick? None of us have the time to keep switching between the two like some kind of elaborate social media time-share. Linktree has your solution.
Linktree's tagline is "Never change your bio link again". When you set up a Linktree account, you are provided with a URL to list as your one and only Instagram bio link. Their dashboard then allows you to add multiple buttons within this page (which features slick, customisable design) linking to all of the pages you'd like to direct visitors to.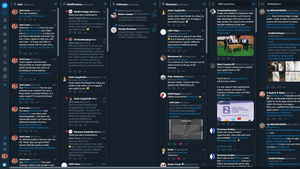 What is it? TweetDeck provides an "at a glance" dashboard for your entire Twitter presence.
As awesome as Twitter is, it can be overwhelmingly fast-paced – noisy even. Thankfully Twitter's own TweetDeck platform is on hand to help avid Tweeters restore order.
TweetDeck provides a versatile, customisable dashboard for you to focus on the aspects of Twitter that are important to you. You can set up columns for your own tweets, your notifications, tweets from lists, mentions, trending topics, hashtag searches, and many more! It also provides basic scheduling tools so you can plan your tweets in advance.
It's currently developed by Twitter themselves so there's no awkward incompatibilities to worry about. TweetDeck is also completely free so you get access to all features immediately – nothing is hidden behind pesky paywalls.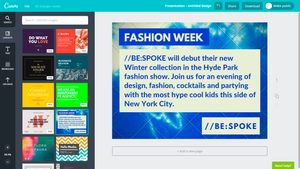 What is it? Canva is an easy to use image creation and editing tool.
Canva is a free image creation tool that produces professional results with relatively little effort or know-how. OK, OK, I know it's not technically a social media tool, but it is free and a great asset to your online arsenal. Social media is a very visual place nowadays, so simple text posts often get drowned out by other, more eye-catching content.
If you want to create flashy graphics for your social feeds but don't have the cash flow for expensive graphics programs, Canva is ideal. There are both free and paid design assets to choose from within the software but it is free to upload and use your own graphics.
Want to take your social presence to the next level... for free?
Click To Tweet
I sincerely hope that this article has pointed you towards at least one tool that you didn't know about previously. Do you know of any other tools that I haven't mentioned here? Share the love and let us know in the comments!