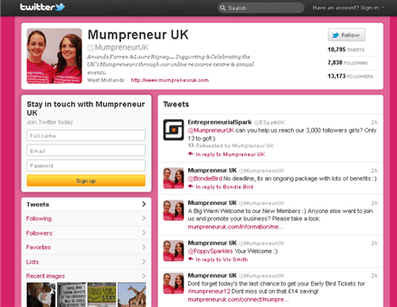 Following up on the first eight great Twitter accounts small businesses should follow, I've picked another eight that are well worth a look.
Here's the second carefully-selected batch.
They say: Follow us for Dell Business UK news, insights, special offers, contests and the occasional rant.
Through this particular Twitter account, Dell tweets links to content it hosts itself but also retweets info that's useful for SMEs, live tweets from events and is happy to chat and let some personality shine through.
They say: Business news from the BBC's business team – the official account of the BBC business and economics centre.
Great account to follow if you want to keep up with the latest news that's very often of interest to the SME community.
They say: The UK's biggest online community for young entrepreneurs aged 16-30. Established 1982. Follow us for business news, advice & funding!
Highlighting links to info on live events, video advice and opportunities to win funding are the things that this account focuses on. ShellLiveWIRE is one of Shell's 'Social Investment Programmes'.
They say: Your UK business advice and news platform from the Simply Business team.
The UK business insurance broker Simply Business regularly publishes interesting content, and will then tweet out a link. The people behind the account will also point to third-party content they thinks its audience would like to see.
They say: Econsultancy publishes independent research, analysis and advice on digital marketing, social media, e-commerce, SEO, mobile and tech for businesses.
Great profile to follow if you want to keep up with the latest business trends.
They say: Your online resource for up-to-date information and issues for freelancers and contractors
Lots of tweets linking to content from the freelanceadvisor.co.uk website, such as articles on tips for small businesses looking to employ staff, the challenges of dealing with international clients and the key elements to include when creating a website.
They say: Supporting & Celebrating the UK's Mumpreneurs through our online resource centre & annual events.
As well as advice and guidance for SMEs, the profile that supports the mumpreneuruk.com site hosts regular 'tweetups' where attendees can quickly gain lots of new like-minded followers.
They say: Business Matters: The UKs leading magazine for entrepreneurs & owners of Small & Medium sized businesses and Official Business Magazine To Team 2012
Lots of news and advice for the SME community.