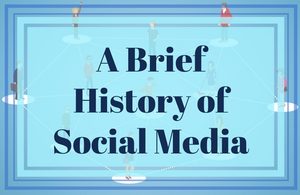 It should go without saying that social media is everywhere. Both in our professional and personal lives, we use our favourite social networks to keep up to date with friends and family, share fond photos, and generally stay connected.
It's also an essential tool for business promotion, networking with new contacts, and keeping a channel of communication open with prospects and customers. It's such a convenient part of everyday life that it's easy to forget – social media hasn't been around forever.
So how exactly did social media happen? How did it come about? Let's take a look at the platforms that played a pivotal role in the social online world we have today.
Pre-1995
Before access to the internet became mainstream in the 90s, the internet was a much less populated place, and websites as we know them simply didn't exist. However, the select few who did have an internet connection could still use it to socialise with others, even in these early days.
The first main communication network came in 1978 in the development of Bulletin Board Systems or BBSs. These online networks featured a text-only interface that you could use to interact with others through email, chat, and message boards.
Another notable development came in 1980 with the development of Usenet; a message board and file transfer service that can be considered a precursor to modern web forums. IRC (Internet Relay Chat) was developed in 1988 which focused on group chatting, private messaging and file transfer.
Though these examples may not be considered social media platforms per se, they are evidence that people were using the internet socially well before many of us might have thought.
1996-99: The Formative Years
With the rise of the world wide web, the web as we currently know it came into being. The internet became far more visual than ever before, and the internet started to become accessible to more people.
Building on the successes of text-based instant messaging platforms from the past, more advanced chat platforms like ICQ, Yahoo! Messenger, and MSN Messenger all launched during the late 90s.
In 1997, the site hailed as the first "modern" social network was launched. SixDegrees.com was inspired by the concept of 6 degrees of separation, and users could create a profile page and add friends much like on platforms such as Facebook today.
Then two years later in 1999, blogging based social network LiveJournal was born. Mainly centred around blogging, it also allowed users to create a profile page, link in with friends and community groups, and start message-board like threads in the comments section below each blog post.
2000-10: The Social Revolution
During the first decade of the new millennium, internet access exploded. The dot com boom was riding high, and we were starting to realise what a powerful tool that the internet could be. Therefore, many enterprising developer types saw the gap in the market for social networking. This is the era when most of the social networks we know and love today came about. Also as the decade passes, the internet becomes more and more mobile, and many social platforms launch mobile apps.
2003 saw the launch of LinkedIn (yes, it's that old!). Much the same as today, the main concept was for professional networking; linking with professionals that you know and meeting new ones through their connections.
MySpace was also founded in the same year, a platform where you could add friends, post updates, send private messages, and upload pictures much like you can with social networks today. MySpace had a strong focus on music, and launched the careers of numerous well-known musicians such as Adele and Skrillex. Today, it retains many social functionalities, and remains focused on showcasing musical artists
Now, it's time for the game changer. The social networking landscape was set to change forever in 2004 with the launch of Facebook; though it was only initially available to Harvard University students. Little by little they started accepting users from more and more establishments from around the world; then in 2006, they opened up the floodgates to the general public (as long as you were over 13). It was truly ground-breaking at the time, and Facebook formed (and continues to form) many of our ideas about using the internet socially, both personally and professionally.
2006 also saw the rise of another familiar name – Twitter. The concept was built around text message-like communication which paved the way for its shorter format, faster paced platform. The platform's initial basis around SMS text message-style updates led to the infamous 140-character limit that Twitter are now looking at increasing. Twitter popularised the concept of the hashtag, though they didn't invent it; it can be argued that the origin of the hashtag stems back to the days of IRC.
To round off the decade, Instagram's iOS app was launched in October 2010 (the Android version came later in 2012). The popular app was, and still is, dedicated to sharing aesthetically pleasing mobile photography – but we'll revisit Instagram shortly.
It cannot be overstated that this decade was pivotal in making the internet the social thing it is today. Though we've covered some household names, other current and well-liked platforms like Tumblr (2007) and Pinterest (2010) also came to fruition.
However, there were other platforms that threw their hats into the ring that are all but forgotten about today; names like Friends Reunited (2000-2016), Google Buzz (2010-2011), and iTunes Ping (2010-2012) that unfortunately just didn't last for a variety of reasons.
2011-Today
After the mad launching rush of the previous decade and the growing reliance on mobile internet usage, post-2011 sees social media starting to mature and becoming a more ubiquitous part of business and personal life.
Google+ was launched in 2011, and was Google's fourth attempt at the social media game. Though it provides all of the functions of a social platform, it also serves as an integrated social element used across all Google.
Facebook has acquired a number of organisations in recent years, bolstering its market share. Instagram (2012), WhatsApp (2014), and Oculus VR (2014) have all been snapped up by the rapidly growing and maturing company. Since Instagram was acquired by Facebook, the app has seen numerous developments; including short video sharing (2013), "stories" (images and videos that disappear after 24 hours – 2016), and live-streaming (2016).
During this time, Twitter also had its own irons in the fire. As well as its popular flagship platform, Twitter acquired Vine in 2012, launching it in 2013; this platform allowed users to share 6-second looping videos, but was eventually discontinued in 2016. Twitter also acquired and launched Periscope in 2015, allowing users to share live video with their followers.
The Current State of Affairs
In less than 40 years, we've gone from slow text-only interfaces that painstakingly loaded line by line, to being able to stream high quality video from wherever we are in the world (dependent on an internet connection of course).
But what can small businesses learn from this little excursion down memory lane? Personally, I think it highlights the importance of being agile and aware of changes to your market. There were so many social networks that simply didn't make it, and even successful platforms have pulled and changed features to suit public demand. Tech is a notoriously difficult industry to be in.
Tech trends can be fickle, and the science behind consumer technology is always evolving; which creates volatile business conditions. Businesses in tech need to stay sharp, alert, and agile.
However, these three qualities are good to nurture, even for businesses who aren't in tech. Always keep your ear to the ground for fresh developments within your field, think laterally about problems that might impact your industry, and remain fluid-yet-firm about goal setting so you can duck, dive, and adapt to any obstacles that come your way.
What can #smallbusiness learn from the history of #socialmedia? Let's find out!
Click To Tweet
So now it's over to you. Do you remember the days of BBSs, IRC, or Usenet? What was your first social interaction online? Share your experiences down in the comments and let's compare notes!