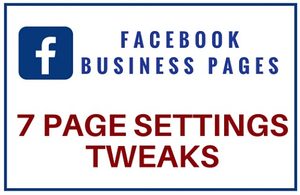 Have you ever looked at the available options in the Facebook Business Page settings tab?
Facebook is constantly updating / testing / releasing new features both for personal profiles and business pages.
Here are 7 sections within your Facebook business page settings tab that you may never have looked at, but could help your business page perform better.
Open your Facebook Business Page (this is best done from a computer / laptop) and click on the settings tab (located top right of your business page next to help) to open a menu on the left hand side as shown in the image below: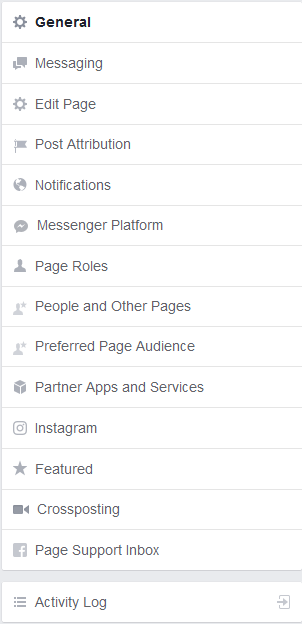 1. General
I suggest you scroll through all of the options in this section and make adjustments to ensure your Business Page is as approachable and visible as possible.e.g.
Message: Can people message your page? Make sure this is switched on.
Others Tagging: Can people & pages tag your page? Make sure they can.
Similar Page Suggestions: Consider switching this on.
Translate Automatically: Is your audience worldwide? Consider switching this on.
Recommended Actions: Make visible – showing these actions on your Page can increase visitor engagement.
2. Messaging
Responding quickly to prospect / customer messages is essential – after all, you wouldn't ignore a ringing phone and nowadays a message enquiry is simply another communication method. Sometimes however, especially if you are a sole trader, or a business with a small team, you cannot always reply as quickly as you would like.
This is where the 'Response Assistant' settings in the messaging section can help. It will allow you to send an instant standard reply to anyone who sends a message to your page. My husband uses this for his Badminton coaching page as he can regularly be on court for a few hours at a time, restricting his ability to respond.
3. Notifications
As business owners, we don't have time to spend all day on social media, so there are some simple notification tweaks in this section to help Facebook keep you informed without taking over your day!
If someone sends you a message, mentions your page, shares or comments on a post, this can be a good opportunity to engage with them – so it is good to get these notifications instantly.
Other settings such as new page likes, new post likes, new followers etc can be turned off if you prefer as you can always look at these when you do a general check of your page.
4. People and Other Pages
Do you know that you can see a list of:
People who like your page
People who follow your page
Pages that like your page
You have the ability to remove or ban people or pages if you don't want to let your competitors see what you are up to!
5. Preferred Page Audience
As a business, you should already have a good understanding of your ideal customer, including their location, demographics etc and in this section you can suggest a preferred audience. Once set, this is what Facebook will do:
"When you select a preferred Page audience, anyone can find your Page, but we'll do our best to put it in front of the people who matter to you most."
Here is a screenshot of the options:
6. Instagram
This section allows you to connect your Facebook Page with your Instagram account so that you can:
Edit your profile from within Facebook
Manage Instagram comments from the Pages Manager App
Create Instagram Ads from Facebook
7. Crossposting
This is an interesting new 'video' feature. If you manage multiple Facebook business pages, or joint venture with another business with a Facebook page, then this allows you to connect them and enable 'crossposting' for videos.
"Crossposting can only happen between Pages that have added each other. You control which videos you want to crosspost. When a Page crossposts your videos, they will also be able to view video insights for their posts."
Enjoy tweaking your Facebook page for optimum business success!
7 Facebook Business page settings tweaks to boost performance
Click To Tweet