If you've ever asked anyone about Facebook pages you can check out and learn from, chances are they came back with names of big businesses like Coca-Cola, Red Bull or McDonalds.
But what about pages that have been created by small businesses?
Here are four great examples of SME Facebook pages – and, in each one, the business has really thought about how Facebook can work for them.
We Fix Alloys A Newcastle-based company that refurbishes alloy wheels, We Fix Alloys use their Facebook page to promote special offers and inform fans when a new blog post is up on the website. The great thing on here, however, is that the company lets the pictures do the talking – the page is packed with images of bright, shiny alloys and the cars sporting them. The images really do sell the service – especailly when you look at the before-and-after shots.
Marshall's Pet Store The company, with shops in Reading and Poole, again uses images to sell the products it offers – but these aren't just of the actual items. Pets are in the picture too, so people can get a proper idea of how something is supposed to work. On top of this, there's there's information on events that might be of interest to animal lovers in the area, and Marshall's will respond very quickly to anyone who posts a comment, giving the impression of an active page that is very much attached to the business itself.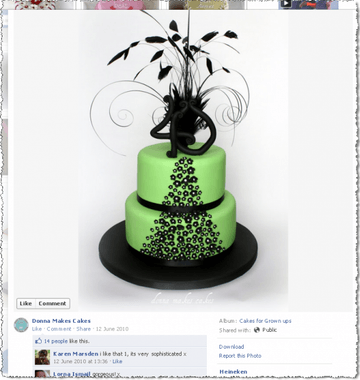 Donna Makes Cakes There's a lively feel to the page from Donna Makes Cakes, a home-based business in Leeds, as it's updated regularly, and there's a steady stream of posts from fans too. Donna Makes Cakes helps add to this by replying to comments. But here's the icing on the cake – all of these pictures and evidence of happy customers provides a real glow of trust around the business. So much so that people are looking to get in touch through the page for quotes.
Blue Lights Photography Barnsley-based wedding photography firm Blue Lights makes sure people can find the company page by adding a prominant link to it on their website homepage, which is good practice. There are roughly 1-2 posts per day, which is a good ballpark figure, and loads of example images have been uploaded to the 'photos' area of the page – meaning potential customers can drop by and get a taste of the type of photos Blue Lights provides, in an instant. In addition, if there has been a cancellation the company will put up a post explaining what's happened and asking if anyone would like to fill the slot at late notice. That's something that adds great value to the page.