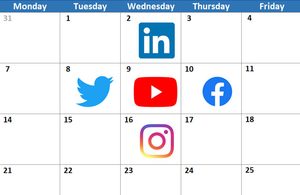 Social media is such a large part of business life these days but sometimes it's hard to decide what to write about. Events are an excellent place to start, they create so many opportunities for you to create content for your social media channels – you can post before the event, during, and after, you can engage in other people's discussions and you can team it with new content on your website.
Some good examples of events to use in your social media posts:
Sales or offers
Seasonal events such as: Valentine's Day, tax returns due, Christmas, summer holidays
Your company's anniversary, award win or other big news
Events created by others, such as Small Business Saturday, the government's yearly Budget announcement, a trade fair you're attending, a big news or industry announcement
Often businesses don't make the most of an event as they haven't prepared their social media in advance. If you want to have a successful social media campaign then follow my pointers below on how to get ready for such an event.
Plan
For any event, you'll need to create a plan of what social media posts you are doing and when. You must also decide who in your business is responsible for the individual tasks. By planning ahead you'll be able to schedule things in appropriately which will save time and stress in the long run. I recommend using something as simple as a spreadsheet or an online calendar (Google Calendar is a popular one) to create the plan.
Things to consider when planning:
Choose where you will promote the event. I suggest you choose only a couple of social media channels to focus most of your effort on, otherwise it will take up too much of your time. Some of the most popular channels are Twitter, Facebook, LinkedIn, Pinterest, YouTube and Instagram. Which social media works best for you will depend on the type of business you run. Facebook works well for consumer brands, whereas LinkedIn is better if you are more business-focused. Twitter tends to work well for both types of businesses
Decide what you need to prepare in advance. Do you need photos, graphics, or perhaps some text? Make sure it is on your plan and is created well in advance of when it is needed
Choose which staff member is responsible for each item on the plan and make sure they know it
Decide what your social media updates will say and check them for spelling and grammar
Create Landing Pages
You should always create something called a 'landing page' for an event, this is a page that is specific to the event that you can link to from your social media updates. It should have further details of the event and your role in it. It doesn't have to be a full website page, it could be a blog post or news item.
Ideas for landing pages:
For a sale or special offer, it should be the products/services and prices of anything included
If you're going to a trade show it should have the times and days of the show, details of who should attend, your stand location, reasons to visit you and if you're running a competition or offer at the show then that should be on there too
If it's a seasonal event then the page should include why it is important to you and your customers – for example, a mechanic might advertise pre-winter car checks to make sure you're safe in the cold and ice
If it's something topical such as the government's Budget or Autumn Statement you could write a blog post on your predictions and tell people that you will be writing a summary of the announcement afterwards – this will give readers an incentive to come back
During/After Event Pages
You have your landing pages for the event, but you also need to plan what you are going to do during and after the event to keep interest going for longer. Will you be posting pictures on your site, writing another blog, putting up a competition winner? You need to plan it in advance and if possible create as much of the page beforehand so that you can put it up as quickly as possible when it's needed – you can then link to it from your social media updates
Research Trending Topics
Twitter uses hashtags, a word or phrase preceded by a hash sign (#), to help users group topics, trends, and posts together. If you post a tweet with a hashtag then Twitter turns it into a link that you can click on to see all the other posts using that same hashtag. There are lots of websites that show you the popular hashtags and topics and it's worth researching if any will be suitable to use. By using a popular and relevant hashtag you are likely to reach a wider audience.
There are often hashtags created for most events a few examples of recent ones:
Small Business Saturday uses: #SmallBizSatUk
The Business Show in London has a yearly one: #TBS2019
There is a standard Christmas one: #christmas, that you might want to team with something like #buylocal if you're a local shop or business
If it's your own event, then make up your own hashtag for Twitter (double-check on Twitter that no-one else is using it). Make sure you use the hashtag in every Twitter post that you write about the event. Also advertise it on any webpage or literature that you create for the event. You should encourage others to use your hashtag when writing about your event too.
Pre-Event Updates
Don't wait until the event is on, post a few pre-event updates on all your social media. They can be simple teasers to hint that something is happening or they can be full details with a link to the landing pages you've created.
Examples are:
A recent one from Rocket Dog Shoes (@rocketdogbrands) advertising their sale: "Psst… 30% off all regular priced styles starts tomorrow! Only at http://RocketDog.com. #BlackFriday #sale)
A teaser from The Federation of Small Businesses (@fsb_policy) on the recent run-up to the Autumn Statement: "Stayed tuned at 12:30pm to @fsb_policy to find out what's happening for business through #autumnstatement"
Follow Others and Invite
Follow others to start building a community. On Twitter, if you follow others then they often follow back and on Facebook, you can invite others to like your page and follow you. On the run-up to an event, start proactively trying to get more social media followers that you think might be interested in the event. If you need a boost in followers you could always think about taking out a paid-for advert on places like Facebook, Twitter, and LinkedIn as they will help you reach a larger audience.
If there is anyone else involved in the event or there is someone else running the event then make sure you follow them as you might find some good information to re-post across your social media, and maybe they'll re-post some of your updates too!
Scheduling Social Media Updates
There are lots of tools out there to help you schedule updates if you are not available when they need to be sent out. A couple of popular applications are Buffer and Hootsuite, they let you write your message then you can choose what time and day you'd like it to go out to the public. I've found this particularly useful if you are manning a stand at a trade show and can't get to a computer to post updates.
This article was originally published on 19 December 2014, and updated on 20 August 2020.