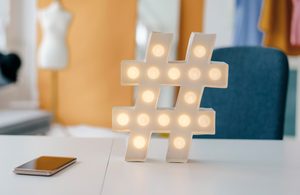 Everyone wants to know the secret of how to trend on social media – for the right reasons, anyway. But to create a trending hashtag, you need to be very, very newsworthy – and for most small to medium businesses, this is very difficult to achieve.

There are ways you can trend at a low level – through running competitions, and via promoted hashtags. But this can be an expensive way to get some short-term exposure, and it is still unlikely to get you trending in the big leagues.
There is another way to benefit from the exposure of a trending hashtag though – and the good news is, you don't need to create it yourself!
What is a trending hashtag or topic, and why should I care?
A trending hashtag or topic is when a large number of people all talk about the same thing online at the same time. In the UK earlier this year, #coronavirus and COVID-19 trended daily for weeks, as everybody had the same topic front of mind for a prolonged period. Often, topics only trend for a few hours or days before collective interest switches elsewhere.
You can benefit from using already-trending hashtags by using them in your own posts. This means that when other users click on trending hashtags, your content will come up amongst all the other content utilising the hashtag, potentially exposing you to a greater audience.
Identifying which trending hashtags you want to be associated with
Joining in with a hashtag that is already trending means you can potentially enjoy some of the exposure of that hashtag without even having created it yourself. The only caveat is that whatever hashtag you base your content around has to be relevant – so you can't just copy and paste trending hashtags about celebrities or politics into tweets about your product.
This means that first of all you need to identify core topics that, if they begin to trend, you can quickly piggyback on.
To do this, as obvious as it might sound, you need to be active on social media. This means checking your core platforms throughout the day to check which topics are trending, and being ready to start "joining the conversation" and quickly creating content to tie in with relevant ones.
Of course not every business has the resource available for constant social media monitoring, and in this instance then a really great way to get yourself started is to set up alerts for the core topics you've identified. Google Trends enables you to see at a glance what's trending around the world, and allows you to narrow it down by country sub regions, and suggests other related topics. It also now has the facility to set up alerts so that, should a key topic for you begin to trend, you will get an email alert.
As an example of how you can use this to your advantage, here is how a garden centre might start out in their quest to piggyback relevant trends. In the search term bar, they might type the broad search term "plants", which will bring them to this page which indicates interest in this word over time, related topics and queries. They might then select two or three core topics within this general trends (for example "spring garden", "summer flowers", "autumn", "daffodils") they are keen to know about if they begin to trend, and set up a subscription alert for them here. Once they have these set up, they can be ready to jump on a trend as soon as they get an alert – saving them the need to constantly trawl social media.
How to "piggyback" on a trending hashtag on social media
Once you are monitoring social media trends and/or tracking core topics, you need to be ready to jump on a relevant trending hashtag. Continuing with the example of the garden centre as above, this would mean being ready to quickly create content around whichever topic is trending. If the topic happened to be "spring garden" then they could talk about when to plant spring bulbs, and link to a relevant web page, ensuring to incorporate the trending search term and hashtag. By doing this, the garden centre will ensure that anyone clicking on the trending topic or hashtag will have a chance of seeing their content.
So as soon as you notice your preferred topic trending, prepare your content, include the hashtag, and link to your website if you have room.
How to "piggyback" on a trending social media hashtag
Click To Tweet
READ MORE:
How to Choose and Use the Best Hashtags for Your Brand
The Risks – & Benefits – Of Working With A Social Media Influencer