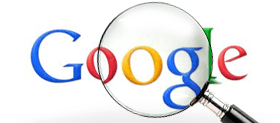 Does this sound familiar to you?
First page top ranking on a search engine: they're shocked you're not on it, and they'll get you there
They hook you in by laying seeds of doubt by suggesting if you are not on the first page of Google or other search engine your website is not optimised for SEO and you need a new website:
"

We will put you on the first page of [search engine]

with 10 other advertisers."
"We can guarantee

a first page advert on the front page of Google

."
"How YOU Can

Grab The Top Spots In Google

In 24 Hours Or LESS!"
"Ever wondered why your website never shows up on

first page

of Google? Well, the answer is your website lacks marketing techniques."
"It is my role to transform boring and abandoned websites into

high ranking

, high converting and customer pulling websites.

Your website isn't ranking on the first page of any of the major Search Engines yet (Google, Bing, Yahoo etc).

Getting a

top position on a search engine for a popular keyword

can bring you thousands of potential customers, every single day.
"I have noticed that your website currently appears on page 8 of Google (UK).

We have many clients whose websites can be found on page one for their chosen phrases

. If you would be interested in finding out more about our services/prices please contact me as below (we can of course target any keywords you require)."
"I was surfing through your website and

realised it was not ranking on Google/Yahoo/MSN for most of the keywords pertaining to your domain.

I was wondering if you would be interested in getting the SEO done for your website."
"We are serving our global clients since last five years and have achieved

top Google ranking

for them."
"We are optimized 200+ websites with

90% GOOGLE MAIN PAGE SUCCESS RATES

"
"Your website is coming on 31st page of Google results. If you check your competitors are there on the first page and they are gaining most business through internet.

I can bring your website on main page of Google Results.

I am sure this will get you more business through internet.
Our customers are receiving hundreds of these messages a year. You can see from this small sample how repetitive the theme gets. All of the quotes on this page are quoted direct from email marketing material or websites from those companies who have been pestering our customers, who in turn have informed us.
Fact:
Having a good website is only the first step towards reaching your business goal which most likely is to attract more and more customers through your website on a search engine like Google.
In order to compete effectively on Google different businesses will require different level of investments based on their business type/ classification or service areas.
A thumb rule here is the more competition there is on Google for your business type/classification/service area, the more investment you will have to make.
A lot of businesses don't understand how websites get ranked on Google – it is complicated. This is being heavily exploited by so called "SEO expert companies" who simply want to sell their SEO product without taking the time to understand customer needs and tailor their services to the specific needs of the individual customer. In order to sell their SEO product, they engage in downplaying your websites search performance without actually explaining how are they going to improve it and being vague about how much that will cost.
Don't trust companies that claim to magically get you up on the first page without explaining how and exactly for how much money over what period of time.
Untrustworthy companies will use 'black hat' SEO practices. These are unethical methods that can temporarily see an increase in ranking on a search engine, but the results are very short-lived as they do not benefit the users of the search engine and result in Google blacklisting those sites, so they will never get found again. You will have invested in a website which will never get found.
Companies who are claiming they have achieved first page results may have managed this – but the question is how, at what cost and is anybody actually searching for that term?
Google guide
Any business considering hiring an SEO company should read Google's comprehensive guide on the matter. It includes the questions to ask and the potential pitfalls of hiring an unethical company.
The guide is available here.
On the subject of ranking, Google has this to say:
No one can guarantee a #1 ranking on Google.
Beware of SEOs that claim to guarantee rankings, allege a "special relationship" with Google, or advertise a "priority submit" to Google. There is no priority submit for Google. In fact, the only way to submit a site to Google directly is through our Submit your content page or by submitting a Sitemap and you can do this yourself at no cost whatsoever.
Bottom line
There is no quick solution to rank top of the search engines for terms that will drive qualified visitors to your site. It takes hard work and investment. Having a website which is built with search engines in mind is a great starting point to build upon.
Read more of our SEO mythbuster posts here:
SEO Mythbusters – Setting the record straight
SEO Mythbusters – We'll deliver unbelievable results
SEO Mythbusters – We guarantee results
SEO Mythbusters – Instant gratification and success
SEO Mythbusters – We will get you thousands of links to your site