Google+ might still be a relatively unknown social media platform, but you should still consider adding it to your suite of marketing channels for your business. Google have had several attempts at a social media platform, and they are determined to make it work this time – with their reach and resources, few would bet against them. Plus, it's not a little-used as you might think – Google+ comes third behind Facebook and the Chinese platform QZone in numbers of active worldwide users. Yes, Google+ has more active users than Twitter, Tumblr, Instagram and LinkedIn (data source: We are Social Singapore, December 2014 www.wearesocial.sg).
One of the best reasons to set up a Google+ Page for your business is that activity on Google+ positively influences your ranking on Google Search Results pages – and who doesn't want better Google Search Results?!
Go on, give it a try. Three simple steps and you're in…
Setting up
1) Set up a Google Account. If you already have an @gmail.com email address, a Google Calendar, a YouTube account or anything else you sign in to Google for, you already have a Google Account and can go straight to step 2.
a) Click this link
b) Fill in the form and press 'Submit'. Click here to find out about the information Google asks for – https://support.google.com/accounts/answer/1733224 If you already have an email address and you don't want to create an @gmail.com email address, click 'I prefer to use my current email address'. (Note: Google may remove this option in future.)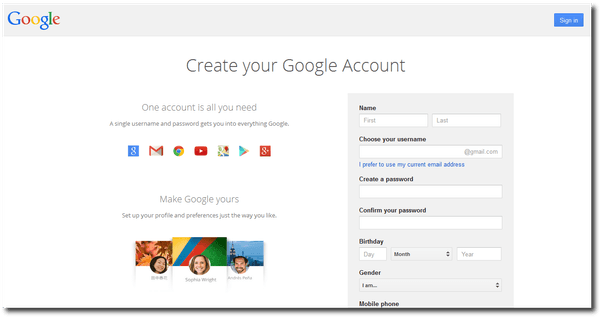 c) You will be sent an email from Google – click the link in the email to verify your Google Account. Emails will be sent to the current email address you used to set up your Google Account
2) Set up your Google+ Profile. This is your personal profile on Google+.
a) If you're not already signed in to your Google Account, go to https://accounts.google.com/ and sign in.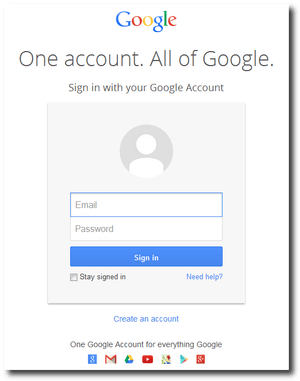 b) Click +[yourname] in top right corner.
c) Hover your mouse where it says 'Home' under the Google+ logo at the top left of the page, and select 'Profile' from the drop-down list.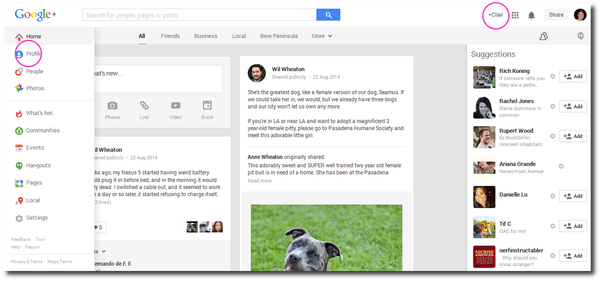 d) Complete your Profile, adding as much or as little information as you choose to.
Click here to find out more about adding information to your Profile and who sees what information
When you've finished creating your Profile, you will be prompted to search for people you know and add them into a list of people to follow on Google+ (known as a Circle). You can do this now, or leave it for later.
3) Set up your Google+ Page. This is your business profile on Google+.
a) Sign in to your Google account.
b) Click +[yourname] in top right corner.
c) Hover your mouse where it says 'Home' under the Google+ logo at the top left of the page, and select 'Pages' from the drop-down list.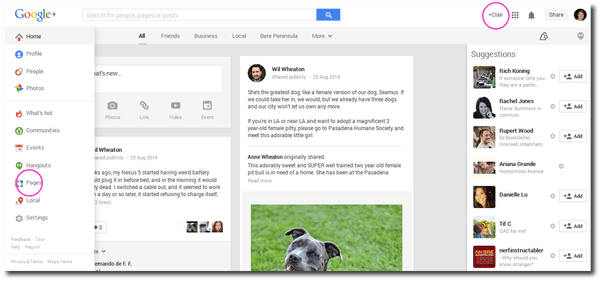 d) Complete your Page, adding as much or as little information about your business as you choose to. It's similar to creating a Profile, but with a couple of other features:
Choose a shopfront business (customers visit you) or a service area business (you go to customers) – it makes a difference how your business is featured (eg on Google Maps searches). There's also an option for organisations where there is no specific location associated with the business (eg bands, artists).
You must verify the business information on your Page, usually by postcard. Google will send a postcard to your business address that contains a verification code. When you receive it (it can take a couple of weeks), follow the instructions on the postcard to enter the verification code on your Google+ account.
Getting started
You can now use your Page for promoting your business. For example, your business/organisation will show on Google Maps searches, you can upload photos and videos that showcase what you offer, and you can share information and respond to people's questions to demonstrate your expertise in your particular field.
Ensure you use your Google+ Page to post as your business, rather than your personal Profile. Click your photo in the top right corner and from the drop-down click the name of your business. To the left of the photo you should see +[yourbusinessname] rather than +[yourname]. You can switch back and forth between the Profile and the Page if you want to post some things personally and some things for business.
When you are on your business Page rather than your personal Profile, the drop-down list under the Google+ logo at the top left of the page will show 'My Business' rather than 'Home'. This list has 10 sections, and they are: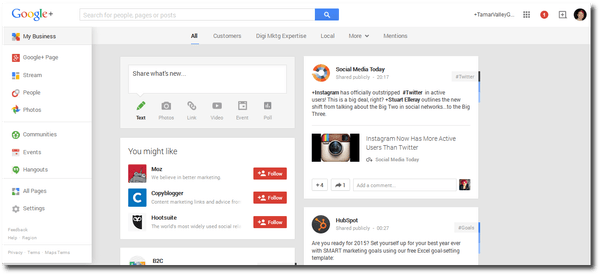 My Business – data on your Google+ activity, reviews of your business and a place to edit your business information.
Google+ Page – your Google+ posts about your business.
Stream – a series of posts, photos etc from Google+ accounts you're following – this is the equivalent of a Facebook news feed or your Twitter feed. The Stream also gives suggestions of other accounts you might like to follow, based on your current activity. Type in the box at the top left corner of the Stream to add a new post, upload photos or video, share a link, or create an event or poll. Type in the box at the bottom of someone's post to comment on it, and/or click the +1 box to 'recommend' it – the equivalent of Likes or Favourites.
People – people, businesses and organisations you have chosen to follow. You don't have to ask to follow them and they don't have to approve you – it's more like Twitter than Facebook. You can set up groups to classify people you are following (eg customers, suppliers, friends, industry experts) , and people can be in more than one group – these groups are known as Circles. When you post on your Stream, you can choose to display the post to everyone or just certain Circles.
Photos – all the photos you've uploaded to Google+.
Communities – subject-specific discussion areas you may wish to join. Anyone can set up a Google+ Community, and it can be about anything you choose – you will probably find several for your industry and local area. Under the name of each Community is the number of members and posts, so you can be choosy about which you join. Most Communities are open so anyone can join them, but for some you have to ask to join (eg a Community for a local area may wish to only have local members, so would need to check your location before approving you to join). Once you're in a Community, the page you see looks just like the Stream but with only posts from that Community. Some Communities do have a lot of spam posts and advertising, so it may take you a while to find the best ones for the subjects you're interested in.
Events – all events listed on Google+ that you've attended or indicated you'd like to attend, and all the events you've created on Google+.
Hangouts – text conversations or video calls with friends or groups of friends (like Facebook Messenger or Skype).
All Pages – all the business/organisation pages you've set up. Clicking this automatically changes you to the personal Profile, as all Pages are linked to the Profile – so be careful when posting something after having gone into this section (check the top right corner for +[yourbusinessname] or +[yourname]).
Settings – manage how your details are seen by others, what notifications you recieve, who can interact with you on Google+, etc.
OK, that should be enough to get you started. Get stuck in – share things, post things (be nice!), recommend others, join Communities, and get your business name out there. If you get stuck, there's lots of Communities dedicated to helping people use Google+ (The G+ Resource is a good one), or just do a good old fashioned Google search for your problem.