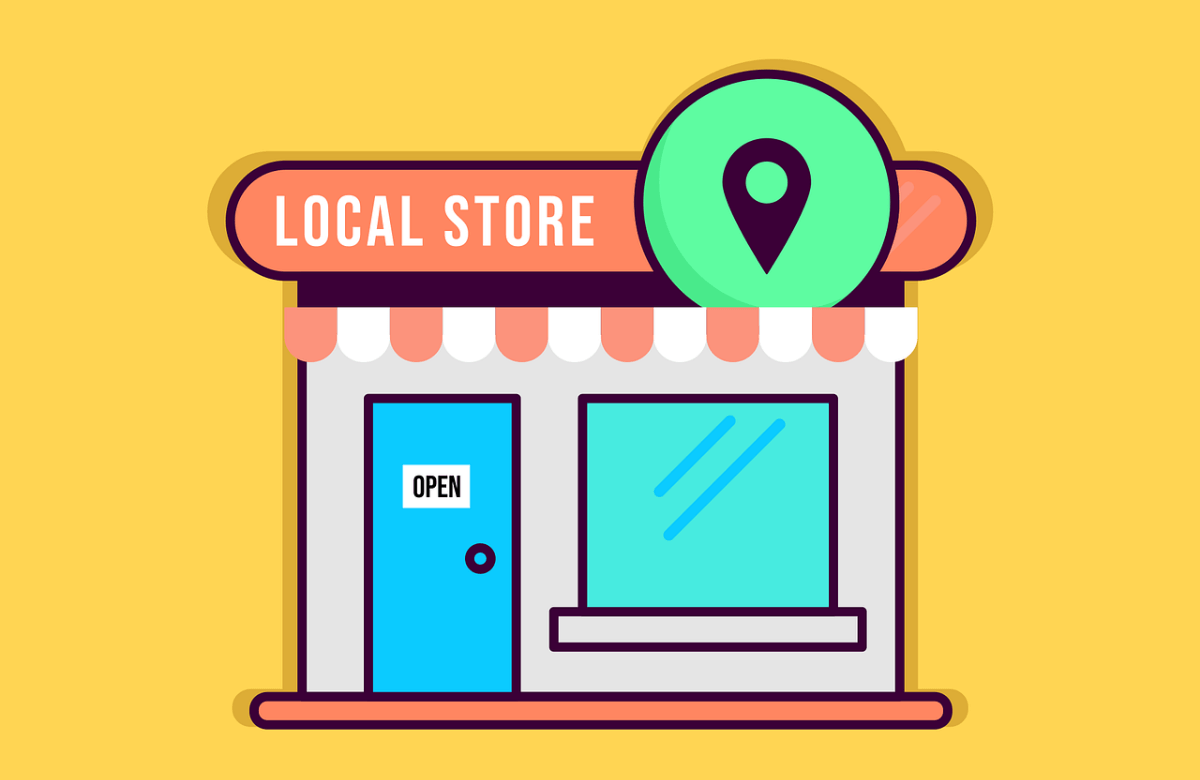 Can customers easily find your business online? Local SEO helps your business to show up in local searches. But what is is, and what do you need to do? Read on for 7 tips to help make your business visible in local search results.
What is Local SEO?
SEO (Search Engine Optimisation) is the use of tactics to improve the rankings of a website in search engine results, thereby helping people find your business online. Local SEO is about helping local people to find you online (you could think of it as a subset of SEO).
While always important, it is especially relevant since COVID-19, as people are more likely to search for a business online than offline, due to everyone not getting out and about as much.
So, how do you get found in local search results? Here are seven tips to get you started:
1. Set Up Your Profile on Google My Business
Google My Business is a free business listing and review platform. A listing in Google My Business can increase your chances of appearing in local search results and their local map pack results, which looks like this: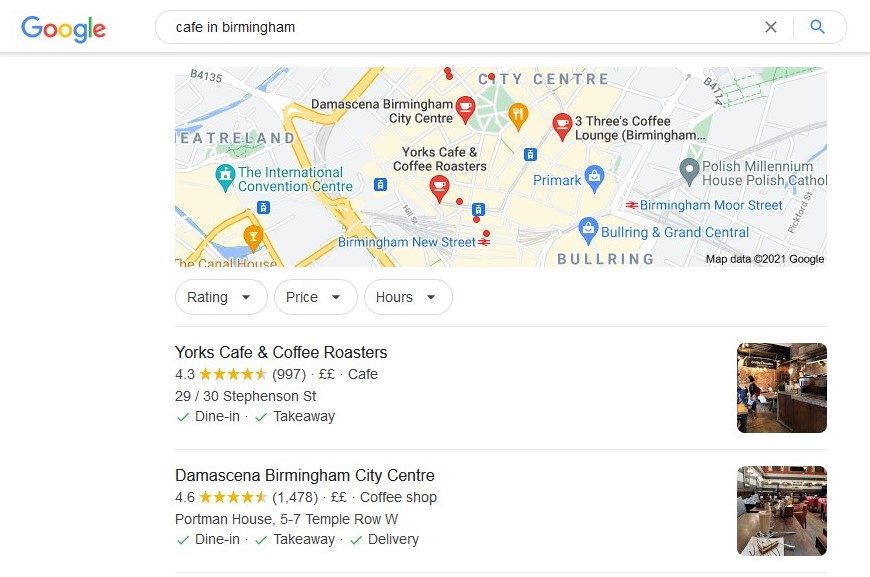 Examples of local searches might include "Electrician in Birmingham" or "Hairdresser near me".
When setting up your profile, make sure that your contact details and location are correct, and don't forget to add your opening hours, along with some visually appealing photographs of your business and the products or services that it offers.
To learn more about how Google my Business works and setting up your profile, check out this Quickstart Guide to Google My Business.
2. Register Your Business on Other Review Sites
Reviews are the new word of mouth, and good reviews can help a company gain more visibility in search results. Additionally, according to a study for Yell by Critical Research (2021), 91% of consumers take action after reading positive reviews online.
Review sites such as Yell.com are often well-established and viewed as a trusted place to find out about a company. As well as the general directories, don't forget about trade-specific ones such as TripAdvisor or TrustATrader. We recommend taking some time to find out which platforms your customers like to use and creating a presence there.
As with Google My Business, help local customers to find you by ensuring your location, contact details, and opening hours are all present and correct.
There are some extra bonuses to having a free Yell.com listing, with reviews posted on here often being included in the Google Knowledge Panel for your business, as well as Yell frequently appearing in Google's 'Find results on' feature above Google Maps results.

3. Make Sure Your Contact Details Are Up to Date
To help customers find you online – and offline – make sure the contact details on your website are correct, including your name, address, telephone number and opening hours. Check them everywhere else your business has an online presence too! You can use this free tool to scan key online locations to find out where and how accurate your business details are listed.
Also, avoid including this information within images. It may look more visually appealing, but search engines cannot read text within images, which means you could be missing out on appearing in local search results. Therefore ensure this information also appears in plain text on your website.
4. Optimise Your Website Content for Local SEO
The content on a web page helps search engines determine how relevant the page is to a search query. They will then rank the page accordingly in their results. Using keywords (words and phrases people use in searches related to your industry) in your content can help you to rank better in relevant search results. Therefore, it is worth doing some keyword research.
For local SEO, your keywords should include your location, for example, "Plumber in Wolverhampton". Places you can use your keywords include:
Headings and sub-headings (H1 and H2)
In the main text
URLs
Image alt text
If your business serves a range of different locations, you could have multiple location pages – one for each place. However, make sure that the content on each page is not the same (i.e. copied and pasted with only the location changed), as this could negatively impact your search engine rankings.
5. Make Sure Your Website is Mobile-Friendly
With 8 out of 10 adults reaching for their mobile devices to access the internet "on the go" (Source: ONS, 2019), it's essential these days to make sure that your website works well on mobile, as well as desktop computers. To test how mobile-friendly your website is, try using Google's Mobile-Friendly Test tool. If you find there are some issues, a chat with your web designer might be in order. You can also get a more in-depth report on your website's performance free from Yell.
If you need help with your web design, Yell can build you a mobile-friendly website that displays well on all devices.
6. Optimise for Voice Search
Voice search allows people to speak their question into the device, providing an easy and convenient hands-free search experience. Examples of voice assistants include Amazon Alexa, Apple's Siri, Microsoft Cortana, and Google Assistant.
The uptake of voice assistants has been increasing. In 2019, 1 in 5 adults in Britain owned a voice-activated speaker (source: Ipsos, 2020). Not to mention that voice assistants are also readily available on mobile phones. Over half of consumers use voice searches to find local businesses. Therefore, it makes sense to write voice assistant friendly content, e.g. by writing conversationally and using natural-sounding keywords and phrases.
If you have a Yell.com listing, you will be pleased to hear that your business details (pending certain third party restrictions) will be supplied to Amazon Alexa, Apple Maps and Spotlight Search via iPhone and iPad, and the Bing network of services including Maps and Cortana virtual assistant, so your business will automatically be discoverable on these devices and networks – completely free and with no effort required on your part! Read more here.
Further reading: Is Your Business Making The Most Of Voice Search?
7. Engage With Customers Online
Engaging with customers online helps build brand awareness and trust around your business, which will make people more likely to choose you over your competitors.
Engage with customers on social media by answering their comments and questions. You can also actively encourage engagement with your content.
Responding to customer reviews, including the negative ones, shows that you care about providing good customer service. 78% of consumers believe it's important that businesses respond to issues raised in reviews (Source: Critical Research, 2021). To find out more about responding to negative reviews, read this article entitled You Don't Need to be Scared of Bad Reviews. Here's Why…
Further reading: 5 Tips for Building a Good Online Reputation
Local SEO helps people to find your business online. We hope that these tips will help you on your journey to making your business more discoverable in local search results.