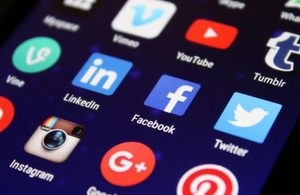 Social media is huge – that should go without saying. But if you're totally new to social or if you've never used it for business before – which platforms do you choose? There are so many!
In this article we're getting back to basics. We'll take a quick look at 6 of the biggest platforms out there, and cover 5 crucial questions to help you identify the best social platforms for your business.
A Couple of Initial Pointers
If you are new to social media for business, it may seem tempting to sign up to every network under the sun and dive right in. However, keeping lots of accounts active can be hard work. Maintaining and regularly posting to multiple different channels is quite labour intensive, so it's better to focus on 2 or 3 ideal platforms rather than spreading yourself too thinly.
Social media newbies may benefit from testing the waters on different platforms by setting up personal or anonymous accounts, rather than using branded business ones. Leaving a branded account empty or full of rookie mistakes can leave a bad impression. It's far better to try things out as a mere face in the crowd!
The Main Players
Now let's take a quick look at some of the main social media platforms out there. These are 6 of the bigger players, but they are by no means the only platforms to choose from:
Facebook
Facebook has the most active users by some margin, and as such it's well worth a look. Though it may initially appear to be very B2C focused, it can be a great place for B2B organisations too (be sure to check out Facebook's "Groups" – a hidden gem for businesses of all kinds). Customers are able to leave reviews on a business's Facebook page that can show up in Google search results, and the personal messaging function is a great tool for customer services. Facebook serves as a happy medium between visual content and textual updates.
Twitter
Twitter is another good all-rounder for both B2B and B2C companies. It's a much more fast-paced platform, meaning it's good for quick Q&As, and is therefore very useful for customer support applications. You can share visual updates, but Twitter has a little more focus on short and snappy text updates; it's therefore great for starting conversations with your followers, making new one-to-one connections, and sparking engagement.
LinkedIn
LinkedIn is an essential pick for all B2B organisations. It centres around professionals making connections, meeting new contacts, and staying in touch with other businesspeople. This platform provides group interaction functions and blogging options, and is therefore a great place to share professional ideas and expertise.
Instagram
Instagram is squarely focused around visual media, which makes it a great choice for product based companies or those who provide a visual service. However, with a bit of ingenuity, non-visual service-based companies can also use Instagram to good effect; for example by featuring video testimonials or by offering a peep "behind the scenes". Instagram's latest live-streaming and "Stories" functions allow further opportunities for social interaction and promotion.
Pinterest
Pinterest is another very visual platform. Though it initially appears very focused on fashion, home furnishings, and DIY projects, it's also a surprisingly good place to post business content too. Especially if it's presented visually, say through an infographic, a graph, a diagram, a video, or even a blog post with good visual appeal.
YouTube
Though YouTube may not technically be a "social media" site, it is a very social place. Interactions revolve around posting videos, commenting on videos, and subscribing to creators. Video is a great platform for any business; it's predicted that video traffic will account for 82% of all consumer internet traffic by 2021, so if you're not camera-shy – why not stake your claim?
Five Essential Questions
Now we've learned a bit about some key platforms, it's time to work out which ones are best for your business. These 5 questions should help you whittle it down:
1. What platforms are your ideal audience active on?
Firstly, it's time to dust off that ideal client profile! What groups and demographics are your ideal clients a part of? What age, gender, location, and income brackets do they belong to? Different platforms can have very different user bases, so research which key demographics use which newtorks (this SpoutSocial article is a great place to start) and identify where your target market is hanging out.
2. What platforms are your competition most active on?
Now it's time to see what your competitors are up to. Head over to their websites and see what networks they're on, and search for them by name on a selection of platforms. Note which networks they are using and the kind of stuff they're sharing. If a large number of your competitors are particularly engaged on a given network, then that may be a good place to throw your hat into the ring.
3. What do you want to achieve by using social media?
Social media offers a number of tangible business benefits, and defining which of those benefits are most important to you can help with your choice of platform. Are you looking to boost brand awareness and engagement? Open a channel of communication with prospects and clients? Provide quick and convenient customer support? Humanise your brand? Network with other professionals? Define which features will help you best achieve these goals, and which platforms are best set up to help you do that.
4. What platforms are most appropriate for your offering?
On a similar note, think about the product/service you provide and how appropriate each platform is to your business in terms of scope and functionality. Depending on whether you serve a B2B or B2C audience, some platforms will be more suitable than others. If you need to share visual demonstrations of your product or service, some platforms will provide better opportunities to do so. As an example, a legal firm is less likely to find an Instagram account useful, but Instagram may be essential for a jeweller.
5. Which platforms do you enjoy using/are you best at using?
Once you've tried out a few platforms first hand, you will most likely find that you "get on with" some more than others. If you really enjoy using certain platforms and find others a chore, you're naturally going to gravitate towards the ones you like and use them regularly.
It's of utmost importance to enjoy your social media journey; by enjoying it you'll most likely want to get stuck in. And like most things, it's getting stuck in that gives you the best chance of success.
Pondering which #socialmedia platforms to use for business? Check out this guide!
Click To Tweet
Which platforms seem the best bet for your company? What do businesses in your field get up to on social media? Share your opinion down in the comments!
Image Credit: Pixelkult via Pixabay