Can your business really afford to keep ignoring social media? I know that we go on and on about the importance of social media for businesses and you might still be sceptical, but we wouldn't keep harping on about it if it wasn't relevant.
So how do you decide on your plan of attack?
Choose your end goals
Well, as per usual any social media strategy will depend on your business itself and what exactly you're looking to achieve. Each of the key channels has a slightly different aim and audience, so it's important to only choose those that are relevant. Instagram might be a good channel for a company that sells products, but is probably less important if you sell a service. LinkedIn or Twitter on the other hand might be ideal.
Drive traffic to your website – If you just want an additional online presence to drive traffic to your website, then that's fine but remember that it will need updating regularly if you want it to be effective. A dormant social media account isn't helping your brand at all and could even be damaging, especially if people are trying to contact you via this channel and don't get an answer.
Grow your online presence – If you want to grow your online presence, then again the best way to do this is by listening to your followers and interacting with them as much as possible to encourage them to join in your conversation and therefore enhance your online presence.
Share deals and offers – If you want a place to share offers and deals with your 'fans' then social media can be a fantastic outlet because you are sending the message to an audience of people who are interested in what you have to say as they have chosen to follow your activity across the various networks.
Understand your audience
Who are your customers? Are they the type of people you want to be targeting on social media? Most of the social networks appeal to different age groups and types of people so this is something to consider when outlining your strategy.
Facebook – with an audience spanning all age groups and encompassing nearly three-quarters of the internet-using population, your brand should really have some form of presence on Facebook. It's up to your business how you choose to use it whether as an additional web page that purely offers company information, or if you decide to make it a hub for 'fans' sharing pictures, news and special offers with everyone in this community.
Instagram – although Instagram has more than 90 million active users each month, most of them slot into the 18-30 category, so consider who you're trying to target. Instagram also doesn't allow you to link to a website in each individual post, so if you're hoping to drive traffic to your website then this may not be the most suitable channel for you.
Twitter – used by almost a quarter of the adult population, Twitter has a fairly wide age range, most popular with those under 30, but also used regularly by the under 50s, thus offering you a broader reach with your messages. It also allows you to attach a link to the post, meaning that you can monitor referral traffic fairly easily.
LinkedIn – the only site most popular with the over 30s, LinkedIn is more of a business networking site, LinkedIn can be useful for any B2B brand wanting to share their message with those interested in their company. It's also a good outlet to share corporate or business-related news items and announcements, especially from a PR perspective.
Own your brand
If you're late to the social media party then you might struggle to get the usernames you want, but if possible try to get the same one across all of the channels. This not only makes it easier for your customers to mention you in comments but also means you won't get confused. Try to keep to something simple that people will expect, but add an underscore or location if your first choice is unavailable.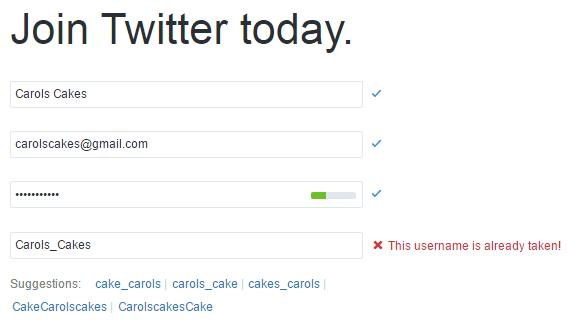 Once you've set up your account, you need to make sure that your brand is instantly recognisable to your customers. Add your logo, website and a brief summary about your business so people know that it's you.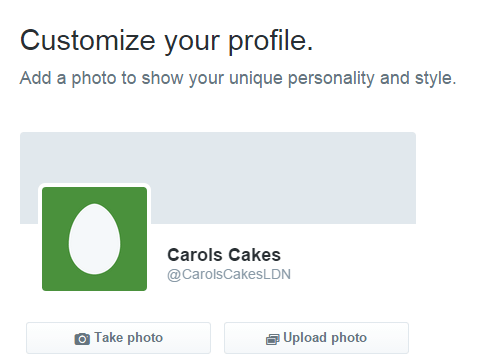 This also helps to build trust, as people don't trust accounts that don't have any information – let's face it "nobody follows an egg".
Keep logos and header images consistent across the channels to maintain brand identity and strength, but don't worry about being less formal on Twitter than you are on LinkedIn. The messaging should match the audience as well as the channel, so spend some time researching how your competitors act on each channel and use that as a guideline, modifying it to match your company's personality.
Post regularly but don't overdo it
The format of each social network is very different. For example, Twitter moves extremely rapidly and is best suited to live posts during an event or for regular news snippets. The advantage with Twitter is that people can retweet it to their followers, increasing your post's reach.
LinkedIn and Facebook have share facilities, but Instagram doesn't. So by posting a photo on Instagram you are only reaching your followers. An Instagram like is still valuable but less so than on Facebook where each like increases your chances of the post showing up in others' newsfeeds.
However, the key thing to remember is that most people use multiple social media sites each day and if you're posting the exact same thing across the channels, people might stop interacting with you. Once you've been using social media for a few months, you'll get a better idea of which channel gets the most interaction and you can start targeting your posts more successfully.
Find out which social media channel could work best for your business
Click To Tweet
Measure your reach and results
There's really no point in starting a social media campaign if you're not going to measure its success. By seeing how many followers you gain on each network, the number of interactions you get and the overall reach you'll be able to set new targets and restructure your approach to attract new customers and followers.
Each of the social networks offers you stats and insights into your follower activity, but there are other programmes you can use as well – like Hootsuite, Tweepsmap etc. it depends how much insight you want.
Facebook

Twitter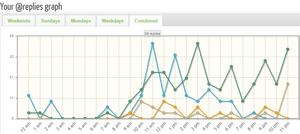 LinkedIn
The more you use it, the more followers you'll gain and be able to interact with. Whatever you think of social media, if you use it wisely it may very well end up being a key part of your digital marketing strategy.