Each week, we throw a spotlight on a top Facebook page that deserves a big thumbs up. Pages featured here are making the most of what Facebook has to offer and can be held up as examples to learn from if you are a small business looking to get to grips with the social network.
These aren't pages with hundreds of thousands of fans, but are ones managed by small businesses looking to use the platform in the best way they can for their particular business.
This week's Star Facebook Page of the Week goes to Blue Lights Photography – a Barnsley-based wedding photography company that takes pictures of babies too!
Why we think it's worthy of exposure: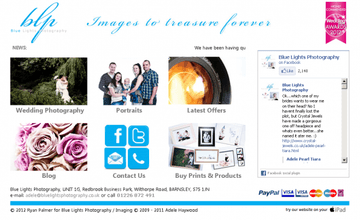 Blue Lights Photography has provided the all-important, bread-and-butter links to the company website within the 'info' section, as well as a link to the company blog and email address details.
Good social signposting starts from the company website homepage – and this one has been ticked off too.
There are roughly 1-2 posts per day, a good ballpark figure.
Loads of example images have been uploaded to the 'photos' area of the page – meaning anyone can drop by and get a taste of the type of photos Blue Lights provides, in an instant.
Here's the dealbreaker, and why we think it's a good page to add to the album – Blue Lights replies promptly to comments and will also provide details of special offers to page fans. On top of this, if there has been a cancellation, the company will put up a post explaining what's happened and asking if anyone would like to fill the slot at late notice. That's something that adds great value to the page – fans will find out when there is a free window, and Blue Lights has a communication channel with customers to let them know. This could also be useful for people like hairdressers, beauticians or anyone who is mobile and has an appointments system.
Congratulations on a great Facebook page!