Each week, we throw a spotlight on a top Facebook page that gets a big thumbs up from us. Pages featured here are making the most of what Facebook has to offer and can be held up as examples to learn from if you are a small business looking to get to grips with the social network.
Our first Star Facebook Page of the Week goes to Thurlby Motors – a franchised Vauxhall and Nissan dealership based in Alford, Boston and Louth.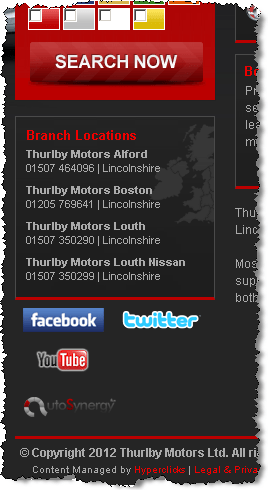 Why we think it's a star page
Thurlby Motors link to their Facebook page (and other social accounts) from their website – this is good signposting, shows they have faith in what they are doing on the site and is likely to be the main driver of traffic to the page. You have to let people know you have a page!
The info page has been filled out and links to the company website, other social accounts on YouTub e and Twitter and also onlines what the business is all about, as well as 'house rules' for the page.
There are stacks of photo galleries. Some are focussed around offers, promotions and new showroom arrivals, but there is a great mix – also included here are pictures of staff members, which helps to give the business a 'human face'.
Here's the dealbreaker – they've thought of a cracking idea to really make the user, or customer, the star. When someone picks up a new car, they are snapped with their new pride and joy and the image is uploaded to a 'Me and My New Car 2012' gallery. If people share this image on their own personal profile, it's a great way of increasing the reach of the page. And of course the new owner gets to show off his new motor!