Video is exploding in popularity. Gone are the days of mediocre data connections and gawping at buffer screens (EE played fantastically on the 'buffer face' when introducing high speed mobile internet) and consumers are now able to stream video on demand, pretty much wherever they are, on whatever device they're using. Thanks to YouTube, it's easier than ever to embed a video clip onto a website or share a snippet via Facebook or Twitter.
Is your business taking advantage of the marketing power of video? Should it?
When it comes to digital marketing and getting your business found online, you'd be forgiven for thinking that all it takes is a half decent website and a bit of advertising here and there. You might have even done some research into user experience – making it as easy as possible for visitors to navigate your site and contact you – but what is it that really converts visitors into customers?
Sure, search engine optimisation (SEO) will help your business rank well on Google, and Pay-Per-Click (PPC) advertising can work wonders at helping you attract the right customers, but getting them to pick up the phone and call you is another matter entirely. Wording your 'calls to action' in the right way might yield a few more clicks, but more and more evidence is pointing to video as the key medium for giving your business the edge.
According to Wyzowl's annual video marketing survey, 79% of consumers said they would rather watch a video to learn about a product than read text on a page, and 84% made a purchase after watching a brand's video. So why wouldn't you make video an option? Even if you don't sell products through your website or your offering is strictly service based, there's still a lot you can achieve with video in terms of driving conversions and building your reputation with an audience.
Building credibility with a 'How-To' video
One of the best things about video is its ability to convey lots of detailed information in a relatively short period of time. People vastly prefer watching a video over reading through reams of text. It's true of just about any industry; imagine how much easier it is to watch a documentary than read a text book, or watch the news instead of ploughing through a newspaper. It's really only in the last 5 years that smartphones have become ubiquitous – personal video players in every pocket with 4G internet connections – and to those consumers, video is a rich and convenient way to digest information about products, services and more.
That 'more' part is key. Videos don't have to be about hard selling. An increasing number of businesses are now adopting instructional 'how to' style videos. Whether it's a mechanic offering up car maintenance tips or an accountant with some advice on how to crunch numbers, these videos build credibility and answer some of the more rudimentary queries customers might have, freeing the lines up for genuine sales enquiries. If you help a customer out with some of the smaller things, they're far more likely to turn to your business when they need to address the bigger things. More importantly, however, they add immediate value. Visitors are more likely to stick around on your site, come back for more or even share and comment on what they've found.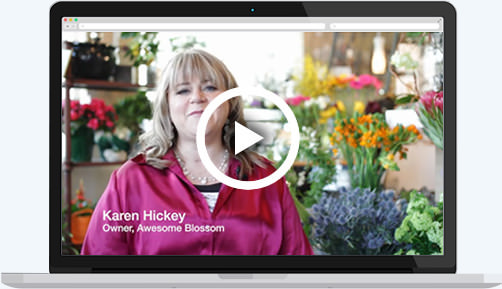 Are you a florist? Shoot a video called '5 things to remember when creating the perfect bouquet', then share it on your blog, website or social media channels. You don't have to give away any trade secrets, but sharing a little of your expertise will go a long way in helping lots of people, and if it means they stick around on your website a little longer or think of your flower shop next time Mother's Day comes around, it's pretty worthwhile wouldn't you say?
Website visitors who view video tend to stay on your site 2 minutes longer. What's your video strategy?
Click To Tweet
—
Was this article useful? Don't forget to comment, share and join us on Twitter @YellBusiness. You can also tweet me @pro_copywriter if you have any questions about this article.